Visit a farmer's market in the summer months, and you'll be amazed at the variety of gorgeous produce that awaits you: ripe peaches and plums, juicy watermelons, plump, sweet berries…
And while summer fruits are delicious as-is, there are plenty of ways to use these healthy and delicious fruits to create fantastic meals, snacks, and desserts.
We've put together our Top 10 list, taken from the Trim Down Club Recipes: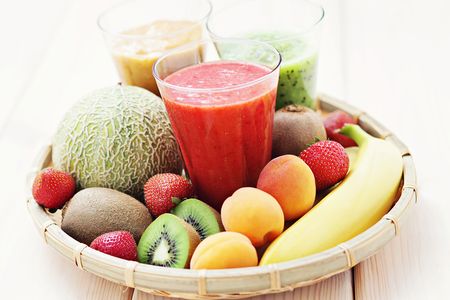 What could be better than spice-scented stone fruit, grilled to intensify the natural sweetness?
And the creamy richness of Greek yogurt.
This salad is a wonderful contrast of tastes and textures: crunchy and creamy, sweet and bitter, tart and salty, sour and spicy. Yum!
Mango, berries and Greek yogurt: this sunny shake is a great source of fiber, calcium and protein, as well as a glass of cool, delicious elegance.
A cool green shake that's incredibly refreshing on a hot day!
These beautiful tarts, with their delicious filling of Greek yogurt and Neufchatel cheese scented with cinnamon, are easy to make and a charming end to dinner or lunch.
At the top of the list of indulgences forbidden to those of us who want to lose weight must surely be cheesecake. Not anymore, so go ahead and indulge!
Use whatever fruit you have on-hand or some left over fruit salad to make this shake of the gods. Greek yogurt or coconut milk provide wonderful flavor variations.
We don't know whether these pancakes are breakfast or dessert—both ways send us over the moon—but we do know that roasting the blueberries adds an absolutely special intensity of flavor.
This luscious dessert is both rich and delicate—and so much easier than you might think.
It's a fast, pretty, easy-to-make breakfast that's much tastier than anything store-bought. So we probably shouldn't tell you that it's also really healthy for you.
All that's left for you to do now is grab some summer fruit and get into the kitchen…and enjoy.