These beautiful tarts are simple to make, and their filling is a delicious combination of Greek yogurt, cinnamon and neufchâtel cheese.
Click to get more Easy, Healthy Recipes
Preparation Time

25 minutes + 1 hour

Difficulty Rating

2

Health Level

3

Serves

4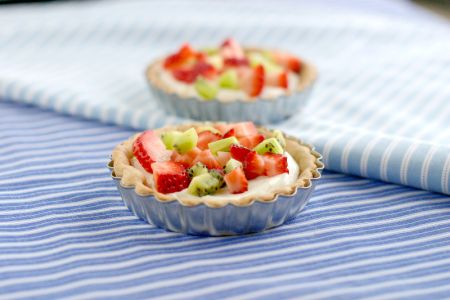 Ingredients
Tart Dough

2 cups whole wheat flour + ½ cup for kneading
¾ cup water
2 tsp of olive oil
2½ tsp baking powder
1 tsp salt
Non-stick spray



Tart Filling

8 oz. package of neufchâtel cheese
1 cup of plain Greek yogurt
1 teaspoon of cinnamon
¼ teaspoon of Stevia powdered extract or monk fruit sweetener
½ kiwi, peeled
4-6 strawberries
---
Directions
Tart Dough
Preheat oven to 350°F.
Stir together 2 cups of the flour, salt, and baking powder in a bowl. Pour the dry ingredients into a food processor fitted with a plastic blade, along with the water and oil. Process the dough until it forms a ball, approximately 1 minute. Remove the dough and knead on a work surface with remaining flour. Divide the dough into 4 parts.
Spray the tart pans with nonstick cooking spray. Take a piece of dough and roll it out so that it's larger than the tart pan. Firmly tuck into the bottom and sides. Poke all over with a fork. Remove extra dough by taking the rolling pin and gently rolling it over the tart pan and trimming off the excess dough. Place tart pans on a cookie sheet, and bake for 10-12 minutes or until crust is firm.
Tart Filling
Blend the first four ingredients together in a food processor while dough is resting. Chill for an hour to firm up the filling.
Gently spoon filling into tart pans and smooth out with a spreader. Finely chop the kiwi and strawberries and divide them among the tarts.
Serving size: 1 tart
Exchanges per Serving: 3 Carb, ⅔ Protein, 2½ Fat
---