Luscious ricotta pairs perfectly with the sweet, antioxidant-rich blueberry sauce in whole grain pancakes (with or without gluten!) that are as delicious for breakfast as they are for dessert.
Click to get more Easy, Healthy Recipes
Preparation Time

10 minutes

Cooking Time

approx. 30 minutes

Difficulty Rating

1

Health Level

4

Serves

4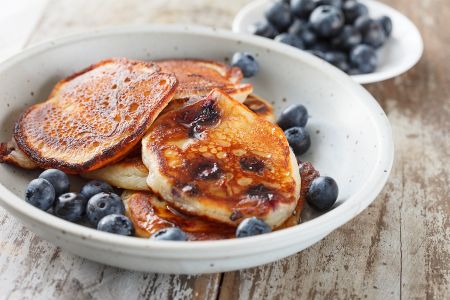 Ingredients
2 cups fresh blueberries
2 Tbsp. olive oil
⅓ cup tonic water
1 tsp. Stevia or monk fruit sweetener
2 Tbsp. lemon juice
¾ cup low-fat ricotta
1 whole egg + 1 egg white, organic omega-3 or grass-raised/free-range
½ cup low-fat milk, organic grass-raised
¾ cup whole wheat flour or whole grain gluten-free flour blend
1 tsp. baking powder
½ tsp. baking soda
½ tsp. kosher salt
---
Directions
Preheat oven to 350°F / 175°C.
In a small rimmed sheet pan, toss the blueberries with 2 teaspoons olive oil. Bake for 20 minutes. Remove the blueberries from the oven and scoop them into a small saucepan. Add tonic water, sweetener, and lemon juice. Cook over low heat for 10 minutes.
While sauce is cooking, start the pancakes.
Stir together the ricotta, egg, egg white, and milk in a medium bowl. In a separate medium bowl, sift together the wheat flour or gluten-free flour blend, baking powder, baking soda, and kosher salt.
Whisk the ricotta mixture into the flour mixture. Stir well to combine.
Heat 1 teaspoon olive oil in a nonstick frying pan over medium heat. When the oil shimmers, pour two ¼-cup quantities of batter into the pan. Cook both pancakes until bubbles form on the sides and the bottom feels firm with a spatula. Flip and cook for 2-3 minutes more, or until the bottom of the pancake is browned. Repeat with the rest of the batter, for a total of 8 pancakes.
Serve with blueberry sauce.
Serving size: 2 pancakes + ½ cup sauce
Exchanges per Serving: 2 Carb, 1¼ Protein, 1½ Fat
---