The Trim Down Club has a mission:
To help everyone have the bodies nature intended us to have: trim, attractive, healthy.
So we created a place where you could get three things:

Meal plans
Totally Customized
to your body, your tastes and your lifestyle.

An
Ever-Expanding Collection
of delicious, nutritious, satisfying recipes because
food is meant to be enjoyed!

The most accurate, important
Nutritional Advice
available, presented in a clear, practical way.
Whether you want to shed unwanted and excess fat, become stronger and more energetic,
or just plain feel better, we help you achieve your goal.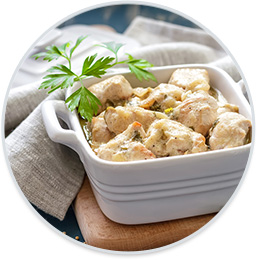 Our Director of Nutrition, Ossie Sharon, is a registered dietician. She's absolutely passionate about helping people understand the role good food and a healthy body weight play in long-term health. She has more than 20 years of clinical and research experience in conventional and holistic nutrition, and experience working with private clients, as well as in hospital and research settings.
Ossie has a Master's in Clinical Nutrition from Case Western Reserve University, and a BSc in Nutrition Science from San Jose State University. She also did a dietetic internship at the Veterans Affairs and Mount Zion Centers, Cleveland Ohio. Now, Ossie shares her wealth of knowledge and advice with Trim Down Club members.

Lauren Richer, our Clinical Dietitian & Personal Coach, is a valuable asset to our team. Her work is focused on providing our members holistic and individualized nutritional plans aimed at restoring balance in the body and maintaining it through customized diets.
Lauren has a Masters's in Dietetics from McGill University, Montreal, Canada and has a vast experience in individual counseling for weight-management, including patients suffering from a variety of conditions such as cancer, diabetes, metabolic and gastrointestinal conditions, etc.
Our program is designed to reflect these proven, simple principles for weight loss:
Eliminate highly processed food that is actually known to make you fat and sick.
Replace every bad food with at least one good food you enjoy.
Never count calories, carbs, fat grams or points: life is too short to live that way.
No fad diets or diet pills with gross side effects: at best, they cause rebound weight gain.
No hunger or deprivation: these are terrible ways to live.
Every aspect of our program is designed to help you lose your unwanted fat in a healthy, sustainable way.
We call our Program a
CLUB
because we are a community of people helping other people enjoy good food while trimming down so that they can live happy, healthy lives. We encourage each other, support each other, celebrate our victories—and share recipes!