This panna cotta recipe is sweet and refreshing. Molded or unmolded, you are sure to enjoy this creamy dessert complimented with blueberry compote.
Click to get more Easy, Healthy Recipes
Preparation Time

10 minutes

Cooking Time

10 minutes

Difficulty Rating

2

Health Level

5

Serves

4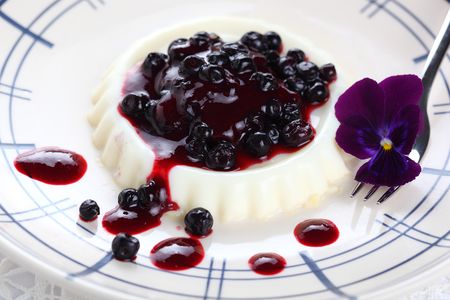 Ingredients
2 cups / 480 ml organic grass-fed or vegan milk
3 tsp. / 6 gm powdered gelatin or agar, unflavored
1 tsp. / 2 gm Stevia powder or monk fruit sweetener
½ lemon, juiced, with peel sliced into strips
½ orange, peel sliced into strips
½ pc vanilla bean, split
6 oz. / 170 gm organic soy or Greek yogurt
1 lb. / 450 gm fresh blueberries
1½ tsp. / 3 gm Stevia or monk fruit sweetener
7 tsp. / 35 ml fresh lemon juice
---
Directions
Sprinkle gelatin powder over ½ cup / 120 ml of milk, stir with a fork, and set aside to chill.
In a small saucepan, heat the remaining milk, sweetener, peels, and vanilla bean; simmer for 5 minutes.
Discard the vanilla bean and peels before stirring in the gelatin/agar-milk mixture. Let stand to cool slightly, and then add in the yogurt.
Place the pan in ice water until the mixture is thickened.
Pour into individual custard cups or glass molds; chill for at least 2 hours in the refrigerator.
Put the berries in a medium saucepan and simmer over low heat, stirring occasionally.
Mix the sweetener and lemon juice into the berries.
Cook for about thirty minutes, until a thick consistency is obtained.
Let cool before putting in a container with a tight lid and refrigerating.
When ready to serve, scoop a spoonful of blueberry compote over the panna cotta.
Serving Size: 1 cup
Exchanges per Serving: 1¾ Carb, ¾ Protein, 0 Fat
---