You've probably found yourself searching for a late night snack more than once, finishing off a half-empty bag of chips "because it's there".  Sometimes it seems that we're hungry, but in reality we're not.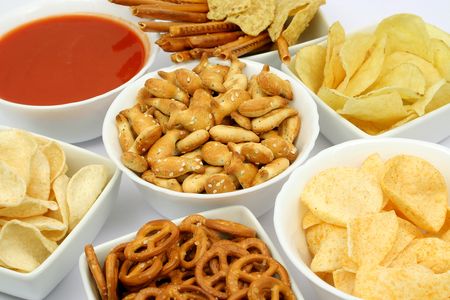 Feel like putting something in your mouth when sitting in front of the television?  Are you eating out of boredom?  Here are five tips to help you quit extra snacking, so you can save hundreds of unnecessary calories.
1. Phone a buddy
Getting support from  someone close can be crucial when it comes to succeeding in any diet  or weight maintenance program.  Talk to a friend and tell them why you feel the need for a midnight snack.  The process of explaining does part of the work.  It  helps you get the answers out of yourself, and you'll be able to control your urges better.
2. Get busy
Get out of your recliner, and get busy with something that has nothing to do with food and will get you as far away from the kitchen as possible.
3. Go to sleep
If you get hungry late at night, it's better to just go to sleep.  Let the hunger pass you by.  When you wake up in the morning, you'll feel better about yourself and you can easily get back on track.
4. Brush your teeth
Brush your teeth after every meal.  Yes, this might sound a little crazy, but believe it or not, brushing your teeth after every meal will reduce the urge to eat dessert or have an unnecessary snack.  Once you brush your teeth, the impulse and urge to eat will be diminished.
5. Drink plenty of water
You've probably heard this thousands of times already, but remember: a stomach full of water reduces the urge and impulse to eat.  Not only does it take up the room that extra food would otherwise, but sometimes the body mistakes thirst with hunger, and water is all you actually need.  After a few glasses, the impulse to snack or the hunger will pass on their own.