Who can resist sweet temptations? A tiny slice of this great strawberry and cream cheese combination is a sinful taste of heaven – without the sin!
Click to get more Easy, Healthy Recipes
Preparation Time

60 minutes

Cooking Time

50 minutes

Difficulty Rating

2

Serves

16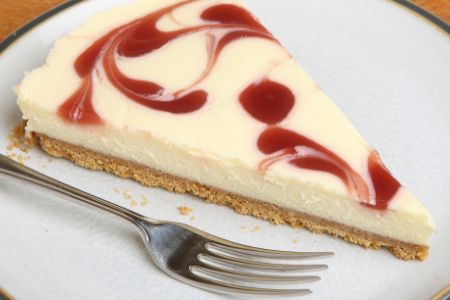 Ingredients
1¼ cups / 108 g whole-grain graham crackers, crushed to crumbs
2½ Tbsp. / 35 ml nut or organic canola/rapeseed oil
20 oz. / 580 g strawberries
1 Tbsp. / 10 g whole grain rice flour
1 cup / 48 g inulin sweetener
8 oz. / 227 g Neufchâtel cheese
12 oz. / 340 g cottage cheese, full fat
16 oz. / 454 g Greek yogurt, plain, full fat
6 eggs, preferably organic omega-3 or pastured
¼ cup / 60 ml lemon Juice
---
Directions
In a bowl, mix together the cracker crumbs and oil to blend well.
Press the mixture on the bottom of a 9-inch / 23cm spring form pan. Place in the refrigerator and chill for at least 30 minutes.
In a food processor, mix together the rice flour, half the inulin sweetener and strawberries; process to obtain a smooth consistency. Transfer to a saucepan and bring to a rolling boil, constantly stirring for 2 minutes.
Remove from heat and reserve ⅓ cup strawberry sauce; let stand to cool. Place the remaining sauce in a container and chill in the refrigerator until ready to serve.
Preheat oven to 300°F / 150°C.
With an electric mixer, whisk the cheeses and yogurt until fluffy and light.
Stir in the lemon juice, and mix well.
Stir in the eggs with the remaining inulin sweetener; continue beating on low speed for 4 minutes.
Transfer half of the beaten mixture from step 8 to the chilled piecrust.
Drop half the reserved strawberry mixture over the cheese-yogurt layer ½ teaspoon at a time.
Spoon the remaining beaten mixture from step 6 over the strawberry sauce. Spoon in the remaining strawberry sauce, again, ½ teaspoon at a time.
Cut through the top layer in a swirling motion with a knife tip point.
Place the springform pan in the preheated oven and bake for about 50 minutes, until the mixture is set.
Transfer to a wire rack to cool for 10 minutes before gently running a knife along the inner sides of the pan to loosen the cheesecake.
Allow to completely cool for the next 60 minutes before placing in the refrigerator to chill overnight.
To serve, remove pan mold, and pour the reserved strawberry sauce on top or serve on the side if desired.
Serving Size: ֲ1/16 (approximately 3 oz / 85 g)
Exchanges per Serving: ¾ Carb, 1 Protein, 1 Fat
---