Good quiches come in small packages! The usual wheat-based crust is replaced by heavenly hash browns, and the portion-size guesswork is replaced by mini-magic in this gluten-free, vegan-friendly recipe.
Click to get more Easy, Healthy Recipes
Preparation Time

20 minutes

Cooking Time

37-45 minutes

Difficulty Rating

1

Health Level

5

Serves

6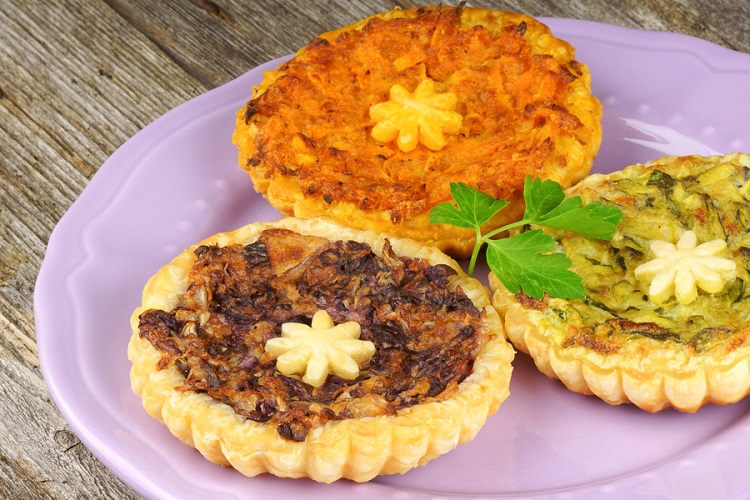 Ingredients
4 small potatoes (total 1¼ lb. / 570 g), well-scrubbed and shredded
4 Tbsp. / 60 ml olive oil
¼ tsp. / ½ g seasonings of choice (garlic, herbs, and spices)
1½ cup / 6 oz / 168 g hard cheese, grated or:

baked nut cheese, crumbled

6 eggs, preferably organic pastured or omega-3 or:

¾ cup / 90 g chickpea flour whisked with ¾ cup / 180 ml water

3 Tbsp. / 40 ml full-fat unsweetened yogurt, coconut or dairy (preferably organic pastured)
1 cup / 100 g vegetables of choice, shredded (carrot, celery and leaves, sweet pepper, kale, spinach, chard, onion, leek, mushroom, etc.)
---
Directions
Preheat oven to 400°F/200°C. Brush a small amount of the oil on the insides of 6 standard muffin pan cups or ramekins; set the rest of the oil aside.
Blend the first two ingredients plus one-half of the seasonings and one-third of the cheese together in a large mixing bowl.
Scoop about ½ cup of the mixture into each oiled muffin cup or ramekin, pressing onto the bottom and walls (including a little over) to form a nest.
Bake in preheated oven for 25-30 minutes until just turning golden brown on the bottom and edges.
Scramble the eggs or chickpea batter together with the yogurt and remaining seasonings.
Divide the mixture evenly among the muffin tins, filling each about ¾ full.
Add the vegetables, then top with remaining cheese.
Bake for 12-15 minutes, until the cheese has melted or lightly browned, and the egg/chickpea mixture is cooked through (check with a toothpick).
Can be made ahead, frozen, and reheated before serving.
Serving size:
1 mini-quiche (1/6 recipe)
Exchanges per Serving:
1 Carb, 1 Protein, 1 Fat
---