There's a widespread myth that eating healthy is more expensive than eating unhealthier processed foods. And while the price tags on organic products may be higher, there are lots of ways that eating healthier foods will actually save you money.
Here are some strategies to stretch your food budget while eating healthy, delicious food:
1. Avoid hidden sugar
It's the "secret" ingredient in virtually all processed foods (including things like bread) that makes you overeat without even realizing it.
Manufacturers use literally dozens of different names for sugar because they know that if you know how much sugar they're using, you won't buy their products.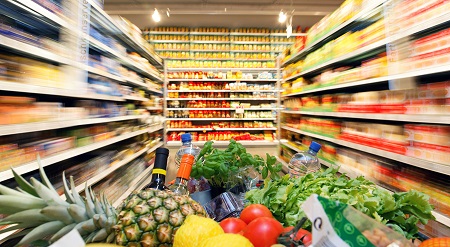 Some of those names are honey, inverted syrup, agave and cane syrup, cane juice, fruit juice concentrate, molasses and brown sugar. Any word that ends in –ose, like fructose, glucose, lactose and maltose, is a sugar.
Hidden sugar causes dramatic swings in your energy levels and it's the single most important reason for our diabetes and obesity epidemics. Refined sugars in processed foods make you feel hungrier, faster, so you eat more, than do unrefined sugars, such as those found in a piece of fresh fruit.
So you can save money on your food budget and reduce your health risk by reducing or cutting out regular or diet soda, cookies, crackers, snacks, prepackaged foods of all types and other processed foods. These foods are designed to make you overeat. But if you don't buy them, you can't overeat them.
2. Plan your cooking

Plan your cooking to create leftovers. It's easier to cook just 2 or 3 meals a week, rather than 6 or 7: you can freeze and reheat leftovers. You'll save time, money and power.
You can also go even further and cook for the whole month at once.
A neat trick is to put all the ingredients for a stir fry or crock pot meal into a freezer bag, along with a separate baggie for the sauce. Then, all you have to do is empty the bag, pour the sauce, and cook.
3. Don't just buy at the chain supermarket. There are other options!
Find a good ethnic supermarket. The prices will almost always be better—as will the selection of meat, fish, fruit and vegetables, spices and other seasonings—than at your typical supermarket chain.
Ethnic corner stores (which may be tucked away in unexpected places like storage centers) can also have an excellent selection.
Farmer's markets cut out the middle man so you can buy very high-quality produce from the farmer. Go at the end of the market and ask for a discount on any remaining fruits and vegetables or bread.
4. Get in and out as quickly as possible
If you are on a store's mailing list (electronic or otherwise) remember that it's the processed foods that are usually on sale. Make sure that when you see sales and bargains on real, unprocessed foods you'll use, that you have a recipe for them.
Shop the perimeter of the store to buy fruits, vegetables, meats and milk products first. Spend as little time as possible in aisles with processed foods so you buy as little of them as possible.
Be ultra-suspicious about buying anything on the end caps or near the checkout register: this precious real estate is reserved for the most profitable items.
5. Stretch your budget at the grocery store
Always buy generic or store brands when possible. The quality is often the same—you're just not paying for advertising.
You can buy many healthy foods, such as lentils, grains, cereals, and spices, in bulk bins at stores. Their prices can be as much as 75% less than the prices of prepared (canned or frozen pre-cooked) or quick versions, and even lower compared to processed and prepackaged foods.
Whenever possible, buy in-season produce.
Frozen produce is just as nutritious (and sometimes more so) than fresh. The prices are often better, too, especially for expensive items like berries or artichokes.
Ugly is beautiful: food is often discounted when it's imperfect. Blotched or bruised fruit, dented cans and day-old-bread are often terrific bargains. There's usually nothing inferior about the food's taste or nutritional value.
6. Cut the cost of organic
Organic foods usually meet stricter standards for 'whole' and 'natural' foods. (More about why they are important in our article: When to Go Organic.) However, they also tend to be more expensive. You can minimize this extra expense with a few easy tips:
If you are concerned about genetically modified organisms (known as GMOs), look for a mention on the label that a food is not genetically engineered.
Simply by not buying highly-processed foods, you will avoid the two unhealthiest GMOs, corn and soy.
Read the ingredient lists of readymade foods and packaged staples: if you know the ingredients to be whole (e.g., garlic) or at least benign, that food is probably fine.
Learn which types of produce are better organic because they won't have pesticide and herbicide residues. They're usually fresher and cheaper at local farmer's markets.
7. Avoid overbuying
Try to never go to the store without a shopping list. Also don't shop hungry. If you're hungry, you will buy stuff that's not on your shopping list. And unless you have a very good reason, don't buy it if it's not on your list.
The annual membership fee for a discount store like Costco is usually very small compared to your savings. These stores sell in bulk so have a plan to freeze, store, or otherwise use what you buy in bulk.
Buy staples in family-size packages, even if you are only cooking for one or two people. Store foods in the refrigerator that would usually go in the cupboard or pantry, such as flours, cereals, pastas, legumes, coffee, tea, and natural sweeteners, to keep them fresh longer. You can store hard cheeses, fluid cow or nut milks (not soy or goat milk), nuts, and especially seeds in your freezer.
If you, your family, or housemates still can't handle the bulk, see if you can split it with other folks in a similar situation. You can do this with friends, co-workers, outside family members, or even through a website where people register to buy in volume and split the goods to save money.
In a gourmet health-oriented store, you may want to try new things. But ultimately, you want to choose what the best deal may really be, whether something is staple or a special occasion treat.
8. The priceless payout
The cost on the label doesn't always reflect the value of the food. Sometimes healthier foods, like brown rice, are a little more expensive than their less-healthy alternatives, like white rice. However, they're so much more satisfying and nourishing that you can cook (and eat) less of them.
You're also investing in your health. In addition to the immediate savings that you'll realize when you avoid buying extra snacks and junk food, you'll also have fewer health-related expenses. We're talking about doctor's visits and hospitalizations, medications (and more medications mean more side effects which usually mean more medications in a vicious downward spiral), and lost work days, to name just a few of the issues.
There is the price you pay in reduced self-esteem when you don't like the way you look. Or when you don't have the energy to do the things you love with the people you love. Or when your health goes downhill—even though many health problems are preventable by eating the right foods.
Want to learn more about how to combine these foods in the right proportions to kick your metabolism into high gear and reclaim your body, your health and your life?