Elegant, flavorful, nourishing—and deceptively simple! Gluten-free, low-carb, vegan, Paleo, and keto-friendly, with an option for raw.
Nutrition per Serving:
Kcal 175 • Protein 5 g • Fat 15.5 g • Carb 5 g
Click to get more Easy, Healthy Recipes
Preparation Time

25 minutes

Baking Time

20 minutes

Difficulty Rating

1

Health Level

5

Serves

12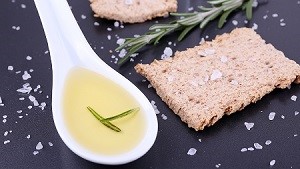 Ingredients
¼ cup / 42 g whole flaxseeds
½ cup /120 ml warm water
1½ Tbsp. / 28 ml olive oil + ½ tsp. / 2½ ml
2 cups / 280 g almonds
2 Tbsp. / 4 g fresh or 1 Tbsp. / 2½ g dried rosemary
½ tsp. / 3 g salt substitute (optional)
---
Directions
Preheat oven to 325ºF / 160ºC. Mist or brush baking sheet with ½ teaspoon / 2½ ml olive oil.
In a food processor or high-speed chopper, grind the flaxseeds to a fine powder. Combine with warm water in a small bowl, and set aside for 15 minutes.
Place almonds and rosemary in the processor or chopper, and grind to a fine meal. Be careful to stop before it becomes too buttery.
Place all ingredients including remaining olive oil in a medium-size bowl and combine well.
Shape into a ball and place on prepared baking sheet. Roll out with a rolling pin over the top sheet to flatten to a thickness of approximately 2 mm.
Slice into rectangles of approximately 4×2 inches / 10×5 cm. Top with salt substitute, if desired.
Bake at the above temperature for 20 minutes, or for "raw" crackers, at 115ºF / 45ºC for 1-2 hours (with the oven door slightly ajar) until golden.
Grated Asiago or Parmesan cheese may be added (½ oz / 15 g = 1 protein exchange). Cool before storing, and refrigerate to store.
Serving size:
2 crackers
Exchanges per Serving:
½ Carb, 1 Protein, 1 Fat
---