You can enjoy healthy and delicious meals whether you're dining alone or with a companion. Though it may feel different than cooking for a group, this guide will show you that similar principles apply.
Shopping and Storing

Once you have your weekly menu planned out, a shopping list is always a good idea. It not only makes shopping and cooking easier, but if you stay focused on it, you can curb the temptation to buy random items at a momentary whim.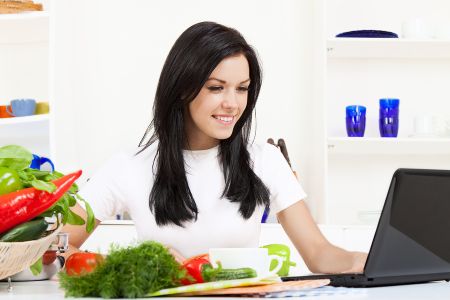 Items are generally less expensive in larger amounts. You can take advantage of this by finding storage solutions for the "extras" – which are really just back-up. Freezing items – even those that normally don't require freezing, such as dairy, grains, breads, nuts/seeds, and opened canned items – can extend the life of many products and ensure you always have healthy foods available. For the best quality, divide up the food into single portions while it's fresh, then freeze it. For the best results, thaw and prepare only exactly enough for single portions for the meal – this can greatly reduce temptation to overeat just because edible leftovers are laying around.
Keeping  up a good stock of healthy light foods – especially those that most people don't get enough of – is also wise. Canned vegetables, beans, and fruits make great quick additions to meals. Unless you buy the low-sodium and no-added-sugar varieties, do rinse canned produce under cold running water to lower their salt and sugar content. Dried foods are especially easily stored and portioned for one or two servings. Consider whole grains, such as quinoa, barley, and whole-grain pastas. Readymade foods, especially those that are healthiest (organic and minimally processed), can sometimes be pricey, so stock up when you find a sale.
Preparing for Convenience

You know there will be days when you don't have the time to cook. In addition to shopping to stock up on back-up foods, you can plan ahead while cooking.
When you prepare a recipe, freeze several portions for re-heating throughout the week. Plan meals so that you can use the extra food in new dishes: rice as a side dish in one meal can later serve as an ingredient in a casserole or pudding; leftover chicken or tofu from a meal can later make for great sandwiches, soup, or a homemade chef's salad; leftover meatloaf or Salisbury steak can be re-seasoned and used to stuff peppers. Take any leftovers to work in containers for the ultimate convenience.
Make and pack your workday foods the evening before you set out so you can use the limited morning time to get in a good breakfast.
Reducing the Size of Recipes

Many recipes can be "right-sized" for one or two servings – cut in half, thirds, quarters, etc. The following is a guide:
https://www.trimdownclub.com/reducing-the-size-of-recipes/