Late summer and early fall is the best time to shop at your local farmers' market. With all the end-of-summer bounty overflowing the stands, you'll find plenty of great options for fresh, delicious meals.
Here are some of our favorite recipes that will help you make the most of the season's best produce.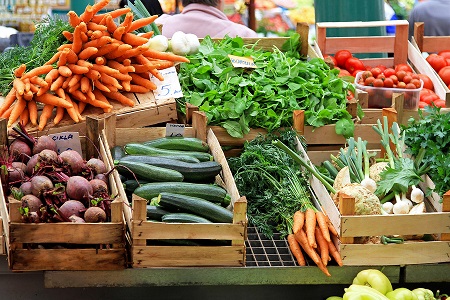 If you like tomatoes, try some of the more unique heirloom varieties. Yellow, purple, green, and striped, each have their own unique flavor and can be used in this hearty casserole dish (or just chopped up in a salad!)
Summer squashes like zucchini are at their best in late summer. Pick deep green zucchini to make these chips—they're sure to hit the spot for a salty snack craving, while still being healthy.
Any combination of veggies will taste delicious roasted with this recipe—the sky is the limit. That means you can make the most of great deals on produce and still have a great foolproof side dish.
Fresh bell peppers are the star of this dish, with a twist coming from healthy quinoa and wakame seaweed. Yum!
Curry meets cucumber in this cool-and-spicy crunchy summer salad. While you can buy cucumbers year round, their true season is late summer.
Fresh corn is a great summer treat. While corn on the cob is an obvious choice, this easy-to-make corn soup is another kid-friendly favorite that the whole family will enjoy.
The peak season for fresh okra is May through September, so now is your chance to grab some okra and make this deliciously simple dish.
A totally guilt-free dessert that makes the best of these summer fruits.
Beef or beefsteak tomatoes are big enough to stuff with this great turkey filling for a simple and tasty meal. You'll find the best ones at your local farmers' or organic market.
Looking for a new twist on the classic omelette? Look no further than this great squash variation.
Shopping at a local farmers' market has lots of benefits:
It helps support local farmers, many of them using sustainable and organic farming practices, which are good for you and for the environment
You can save money when you buy produce that's in season, as opposed to more expensive produce imported for chain supermarkets.
Buying in season means that you get better-tasting, fresher produce.
Support your local community and meet the people that grow your food!
To find a farmers' market near you visit:
USA: http://www.localharvest.org/farmers-markets/
Canada: http://www.farmersmarketscanada.ca/Links.cfm
UK: http://www.local-farmers-markets.co.uk/find-farmers-market.html
Australia: http://farmersmarkets.org.au/markets
New Zealand: http://www.farmersmarkets.org.nz/