It is hard to find a house without a microwave—a vast majority of households in the western world own one. Considering the ease with which one can cook and reheat food in a microwave, this is hardly surprising.
The microwave is associated, more often than not, with unhealthy, instant foods that contain all kinds of ingredients that are hard to pronounce. However, the microwave should not be limited to these poor examples of food. There is also room in a healthy kitchen for a microwave and further down we even provide some excellent examples of healthy, wholesome recipes that can be made in the wonderful device that is the microwave.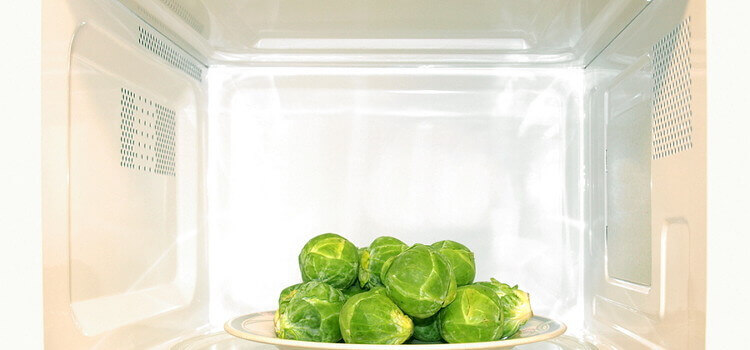 How Does the Microwave Work?
Microwave ovens use radio waves to agitate water molecules in food. Increased agitation of the water molecules leads to their vibration (at the atomic level) and the subsequent generation of heat. This heat is what cooks the food. The particles in the food vibrate and generate heat simultaneously leading to food cooking much more quickly in microwaves than in conventional ovens.
Microwaves are energy efficient due to the fact that radio waves pass through glass, plastic and ceramics. This means that when food is placed on one of these materials when being warmed in the microwave, only the food is heated, nothing more. Despite the fact that the containers remain unheated, there are many studies that show that heating food in the microwave should only be done in glass or porcelain containers due to the potential release of volatile materials from plastic containers into one's food (1,2,3). The material that does reflect these radio waves is metal which is why the walls of the microwave are metal—as to ensure that the waves don't escape the confines of the microwave oven.
Are Microwaves Safe?
The question of whether microwaves are safe appliances is quite a loaded one. There are plenty of people who are adamant about not using a microwave oven because they have heard that the radiation from microwaves can cause cancer.
The U.S. Food and Drug Administration explains that there is not a great deal known about the effects of exposure to low levels of microwaves because controlled, long-term studies on large numbers of people haven't been carried out in order to assess this. There has, so they say, been research carried out on animals, but it is problematic to translate effects of microwaves on animals to possible effects on humans due to the different way that animals and humans absorb microwaves. Although experimental studies are limited, they can provide some kind of insight into the possible health effects of microwave radiation (4).
Cancer Research UK clarifies that some results of studies looking for a link between microwave ovens and cancer suggest that there may be a link but, at the same time, other studies have been unable to prove this. What is known, the organization explains, is that there is a magnetic field produced when a microwave is in use and the further away one is from the microwave, the more it drops. It also doesn't last long, because cooking with a microwave is usually a short process. In addition, most experts say that not enough energy is given off by microwaves in order to damage genetic material in cells (which means that they can't cause cancer). Microwaves heats food and doesn't make significant changes to it that other cooking methods don't make, and therefore aren't any more likely than other cooking methods to cause cancer (5).
There is plenty of speculation to be found on the subject of microwaves and possible health issues, but the bottom line seems to be that there is no source that will tell you that microwaves are without a doubt, one hundred percent safe or high-risk to use—similarly to many appliances that we use in our day-to-day lives. The general guideline seems to be that using a microwave in the way that you are meant has not been proven to be dangerous for one's health.
In fact, an advantage of using microwaves to cook foods is that vitamin retention in some cases is actually better than other cooking methods, due to the higher energy levels which lead to shorter cooking times. This results in less destructive effects on the food being cooked. Studies at Cornell University showed, for example, that spinach cooked in a microwave retained almost all its folate as opposed to spinach cooked on a stove which lost about 77 percent (6). As with all food preparation, nutrients are lost or changed when microwaving; however, microwaving generally does not involve use of water that will "leech" out nutrients and phytonutrients—particularly minerals and up to 97% of antioxidants, respectively—and then be discarded (6, 7).
Ideas for How to Use a Microwave in Healthy Recipes
The microwave is, as we mentioned before, often equated with instant, not particularly healthy foods. However, there is a huge amount of healthy recipes that can be made using the microwave, whether in part or in their entirety. You can search the internet and find much inspiration for quick, healthy microwave dishes with ease. Here are some ideas to get you started:
Breakfast/Dessert
Mains/Sides
Sources