A classic vegan-friendly meal-in-one!
Click to get more Easy, Healthy Recipes
Preparation Time

10 minutes

Cooking Time

70 minutes

Difficulty Rating

1

Serves

3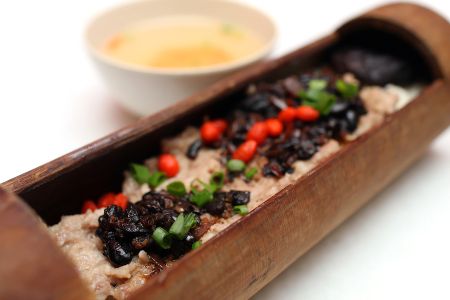 Ingredients
½ cup / 100 gm brown rice, uncooked
4 cups / 960 ml water
½ cup / 100 gm black beans, uncooked
½ small onion, finely chopped
2 tsp. / 10 ml olive oil
1 small hot pepper, seeded and diced
1 small tomato, diced
1 tsp. / 5 ml lime juice
---
Directions
To cook the brown rice, boil 2 cups / 480 ml of water with butter in a small pot. Then stir in the brown rice. Close the lid and turn down the heat to low. Cook for approximately 40 minutes.
Meanwhile, pour the black beans in another small pot, and add in 2 cups of water. Bring to a boil and lower the heat. Cover and allow to simmer for an hour or until soft and easily mashed with a fork.
Heat 1 teaspoon oil in a small saute pan over medium heat, and saute the onions with the hot pepper until the onions are translucent.
Transfer the cooked rice into a microwavable bowl, preferably not plastic. Top with black beans, onion, hot pepper, lime juice, and remaining olive oil. Heat it in the microwave for about 6-8 minutes.
Serve. Stir together before eating.
Serving size: 1 cup
---