Eating slowly is of the utmost importance in healthy weight management: when we eat slowly, the brain has time to get the signal that we're full, and we can avoid overeating.
When food arrives in the stomach, the digestive procedure starts, which releases enzymes as well as hormones that provide feedback to the brain. After approximately 20 minutes, the stomach signals the brain that food has arrived –and if sufficient food has been eaten, that it feels full.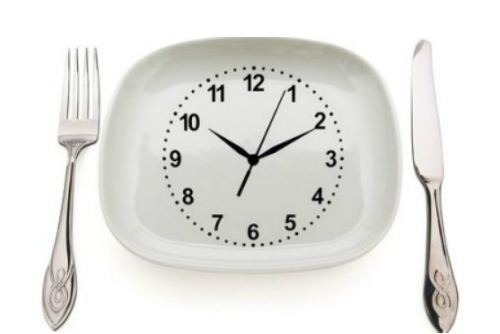 This signaling process is called the satiety mechanism. It acts through both physical means, by expanding, as well as through biochemical means via hormones. The brain, on its part, then sends a message back saying "I'm full, you can stop eating."
When you eat too fast, it may enable you to eat past the point of satiety, because messages cannot be exchanged between the stomach and nervous system as fast as you might be eating. You also may not be aware of how much you are eating, Awareness not only allows signals to be sent, received, and responded to appropriately, but it also enables us to enjoy the food and thus arrive at the end of a right-sized meal more content.
Many overweight people admit to their tendency to eat very fast. Sometimes they report swallowing the food even without chewing, and sometimes not paying attention to or remembering what they ate.
How fast are we eating? Does it ever happen that at the end of a reasonably sized meal we tell ourselves that we're still hungry and feel like we haven't had enough to eat?
As previously stated, there is a 20 minute time gap between the moment the stomach is full and the moment the brain receives a signal of fullness. Only then can the brain send a message that you can stop eating. The slower you eat, the more you increase your chance of benefiting from the fullness message, and ending a meal when your nutritional needs have been met.
Research shows that people who eat slower eat less. A study conducted at Rhode Island University demonstrated this point well. In this research, a group of 30 women was asked to eat pasta meal on two separate days, first with large spoons and at a fast pace without pausing between bites, and second with smaller spoons and at a slow pace, chewing every bite 15-20 times. Eating fast caused the women to consume 646 calories within an average of 9 minutes, whereas when they ate slowly they consumed only 579 calories within an average of 29 minutes – a 10% difference. Moreover, the women who ate slowly reported feeling fuller.
Help yourself to eat more slowly
Put your silverware down after every bite, and wait a couple of seconds before the next bit.
Look at your watch and see what time the meal started at and when it ended. Keep track of how long every meal takes, and try lengthening the meal time at every opportunity by eating slower.
Set a large artifact in front of you that reminds you to eat slower. Every time you'll look at it, remind yourself: "this means that I should eat slower".
Eat in a comfortable and quiet environment, as peacefully as possible. The less you feel stressed the more you'll be able to concentrate on what you're eating.
Make your food your main focus. Enjoy the smell of it, its taste, and the texture of every bite.
Try to minimize the sources of distraction as much as you can, such as reading the newspaper, watching television, using the computer, making a phone call etc. while you're eating. It's very easy to let your attention wander while doing these things during meals or snacks. The price for that is very high, since that is how satiety from the meal can be diminished.
Remember! Though the starting point for slowing your eating pace can be hard, persistence leads to success.