"Primavera" means "spring" in Italian. Pasta primavera is a celebration of the season, embellishing pasta of any type with fresh vegetables rich in vitamins and antioxidants. Classic primavera sauce is based on a coating of garlic and olive oil, and finished with Parmesan cheese, but versions based on a rich white sauce are also common – this recipe brings you the best of both, with the added bonus of being low in fat.
Click to get more Easy, Healthy Recipes
Preparation Time

10 minutes

Cooking Time

15 minutes

Difficulty Rating

1

Serves

4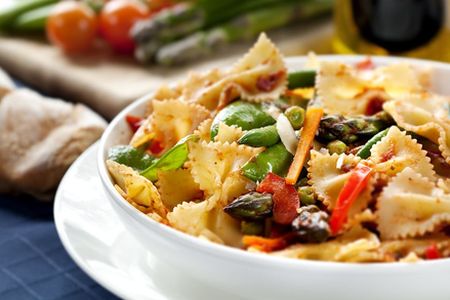 Ingredients
2 cups / 240 gm fresh vegetables, cut into bite-sized pieces*
4 oz / 115 gm dry pasta (i.e. linguini, fettuccine, penne, farfalle)
12 oz (1½ cups) / 360 ml organic soy or Greek yogurt
½ cup / 120 ml organic grass-fed or vegan milk
2 Tbsp. / 10 gm grated Parmesan cheese or finely ground pine nuts
2 cloves fresh garlic, pressed or chopped (or ¼ tsp powder)
5 tsp. / 25 ml olive oil
Salt to taste
---
Directions
Cook the pasta: in a medium-sized pan, add 1 quart of water, 1 tsp oil, and a pinch of salt; bring to a boil.Add the pasta to the boiling water, and cook until tender, about 10-15 minutes.
Cook the vegetables: There are two choices, steaming on a stove or in a microwave oven.:

Stove: Place vegetables in a steamer or adapted saucepan with water up to the holes, and cook on high heat until just tender, about 10 minutes.
Microwave: Place the vegetables in a heat-safe glass bowl, cover partially, and heat on high until just tender, about 5 minutes.

While the vegetables are cooking, prepare the sauce
In a small pan over medium heat, toast the garlic in the olive oil until golden (if garlic powder is used, just heat the oil).
Remove from heat and stir in the yogurt, milk, and cheese or ground pine nuts (and garlic powder, if used).
Remove the pasta and vegetables from heat, drain well.
In a serving dish, blend all ingredients together until the pasta and vegetables are well-coated with the sauce, and serve immediately.
* This is an excellent solution for leftover vegetables or "orphan" vegetables that need to be eaten before shopping day. Note that if the vegetables to be used are already cooked, they need only be reheated in the microwave for 2-3 minutes before blending with the pasta and sauce.
Serving Size: 1 cup
---