Whether you're cooking for one or a crowd, freezer cooking saves time and money. Plus, you're less likely to eat junk if you have lots of healthy freezer meals prepared. So what are you waiting for?
Why Freezer Cooking?
Before the invention of electric refrigeration people preserved their food by other means. From the mid 19th century, iceboxes were used to keep food cool—an insulated box cooled by blocks of ice delivered daily by the ice man.
The spring house was common in rural areas: a one-room building constructed over a spring to maintain a constant cool temperature for dairy, meat, and other perishables.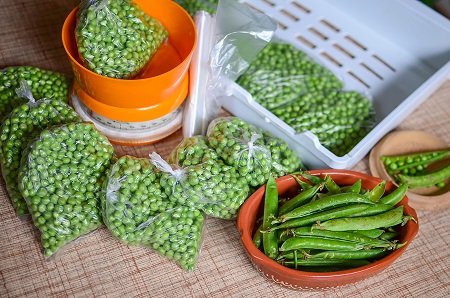 When the electric refrigerator and freezer were invented, preparing in bulk and long-term food storage became much easier. And while "freezer meal" has come to be synonymous with prepackaged processed food full of chemicals, freezer cooking can actually be something cost-effective, simple, and healthy.
Today, there's no reason NOT to cook for your freezer. Here are just a few of the benefits:
Great way to cook for a big family or one or two people—easy to customize to your needs.
Saves time on cooking during the month
Saves money by buying in bulk and using seasonal ingredients.
Yes, you can do this. Even if you…
Don't have a lot of freezer space.
Don't like traditionally "frozen" foods like casseroles. You'd be surprised at all the things that freeze really well!
Have a limited food budget. Actually, freezer cooking is more economical.
Don't like to cook. You can keep your meals very simple, with dump-and-go options for your slow cooker, and more.
What Happens to Nutrients When You Freeze?
Frozen food loses its nutrients very slowly over time, so freezing is a very good option to preserve the nutritional value of food.
The method of cooking is also important here. Baking, blanching, steaming, are all healthy ways of preparing food that lend well to freezing. You can also prepare all the ingredients in sealable bags, uncooked, with the sauce in a separate bag, so that all you have to do is defrost, cook, and enjoy (or throw in a slow cooker for an even easier meal!)
Want to Get Started? Here's What You'll Need:
Appliance for cooking and reheating.
Storage containers (preferably glass) in various sizes, or sealable freezer storage bags
A permanent marker for labeling OR printable labels
Freezer space: plan your meals around how much you are able to store at a time
Optional: crock pot, food processor
There are a few ways to do freezer cooking. Some people prefer to have one big cooking day per month. Others will make double batches of all their meals to store in the freezer for later. Choose whatever works best for you and your family. To help with portion control, you may wish to store the prepared foods in batches to fit single servings for each meal.
Some Recipes for Inspiration: