This recipe is on the savory and salty side of the palate, rather than the traditional characteristic sweetness you would expect from lemon muffins. This is a delicious wake-up goody to perk up your mornings, the perfect accompaniment to a cup of your favorite brew.
Click to get more Easy, Healthy Recipes
Preparation Time

10 minutes

Cooking Time

20 minutes

Difficulty Rating

1

Serves

12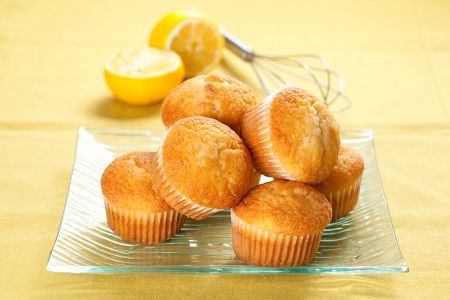 Ingredients
1 cup / 230 g full-fat organic and/or grass-fed cottage cheese
1 cup / 114 g almond flour or meal (finely ground almonds)
1 cup / 120 g brown rice flour
1 tsp / 5 g baking powder, aluminum-free
½ tsp / 2½ g dried basil
½ tsp / 2½ g salt or substitute
1 tsp / 5 g baking soda
¼ cup / 60 ml lemon juice
Zest from 1 lemon
¼ cup / 60 ml water
---
Directions
Preheat your oven to 400°F / 200°C degrees.
Spray a mini-muffin pan with nonstick cooking spray.
In a bowl, beat the cottage cheese with the ground almonds, flour, baking powder, baking soda, and basil.
In a separate bowl, beat together the water and lemon juice with a sprinkling of salt.
Combine the liquid mixture with the dry ingredients and lemon zest. Mix to blend well.
Spoon the mixture into the mini-muffin, just over 2 tablespoons or 60 ml in each cup (each should be nearly full).
Place the muffin pan over the center rack of the preheated oven. Bake for about 15 minutes.
Transfer the muffin tray onto a cooling, rack and let stand for about 10 minutes before taking out the muffins to serve.
Serving size:
2 mini-muffins
Exchanges per Serving: ¾
 Carb, ⅔ Protein
---