This delicious lamb stew with aromatic Middle Eastern spices is served with spiced roasted vegetables, and makes a great accompaniment to whole grain couscous. This is a super dish to make in large quantities for family gatherings, and takes little effort to produce a very tasty and impressive meal.
Click to get more Easy, Healthy Recipes
Preparation Time

20 minutes

Cooking Time

1 hour, 30 mins

Difficulty Rating

2

Health Level

4

Serves

8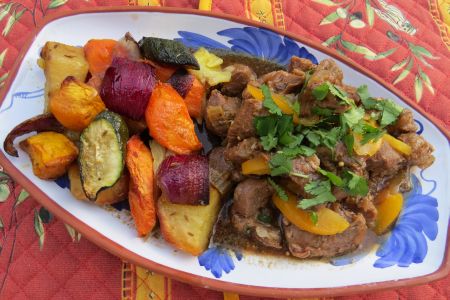 Ingredients
For the main dish

2 lbs / 1 kg of lean leg or neck of lamb, diced
1 large white onion, sliced
1 Tbsp. / 2 g of dried ground or grated nutmeg,
1 Tbsp. / 2 g of ground cinnamon
1 tsp. / 0.7 g of turmeric powder
4 tsp. of olive oil
2 cups / 480 ml of low-salt lamb stock or beef stock
1 low-salt bouillon/stock cube (if needed*)
1 14 oz / 400 gram can of chickpeas, rinsed
1 Tbsp. / 14 ml of tomato puree
Salt or substitute to taste
Ground black pepper to taste
6 dried apricots, sliced



For the vegetables

2 large potatoes, cubed
1 small yellow winter squash, cubed
2 red onions, peeled and cut into quarters
2 medium sized zucchinis/courgettes, cut diagonally into 1-inch/2½-cm slices
4 tsp. of olive oil
1 Tbsp. of cumin seeds
1 Tbsp. of dried coriander
Handful of fresh coriander and fresh mint to garnish
---
Directions
Toss the cubed meat in the dried spices – turmeric, cinnamon and nutmeg – and add 4 teaspoons of olive oil. Mix to thoroughly coat the meat.
In a large non-stick saucepan or casserole dish with a lid, dry fry the meat, mixing constantly to stop sticking. Add the sliced onion, and continue to stir so that the onion is also coated with the spices.
Pour in the stock to cover the meat and onions and bring to the boil. Turn down to simmer immediately, and place the pan lid on. If the meat is not covered with the liquid, add a little water (an additional 2 inches/5 cm) with the stock cube*.
Add the dried apricots and tomato purée.
While the lamb is cooking, toss all the vegetables together in 4 teaspoons of olive oil and the dried cumin seeds and coriander, being sure to mix well. Place on a roasting tray.
After about 30 minutes of the lamb cooking time, heat your oven to 320°F/160°C.
Place the vegetable tray into the oven and leave to cook, stirring the vegetables about every 15 minutes to prevent drying and burning. If the vegetables start to get too dark, cover with aluminium foil to prevent burning.
After approximately 1 hour and 20 minutes of simmering, test a small piece of the lamb – it should be reasonably soft. If not, turn the heat up slightly and leave for another 10-15 minutes, testing after this time as well. By now, your vegetables should be ready, and you can serve your dish.
Place the meat and vegetables on the platter, and sprinkle over some fresh shredded mint and coriander.
Serving size: 1 cup stew + 1 cup vegetables
Exchanges per Serving: 2 Carbs, 3 Protein, 1 Fat
---