This could be the biggest breakthrough in cooking and baking in recent years. Finally, health-conscious cooks worldwide have a worthwhile substitute for eggs, and chances are, it's sitting in your kitchen cabinet right now. It's called aquafaba.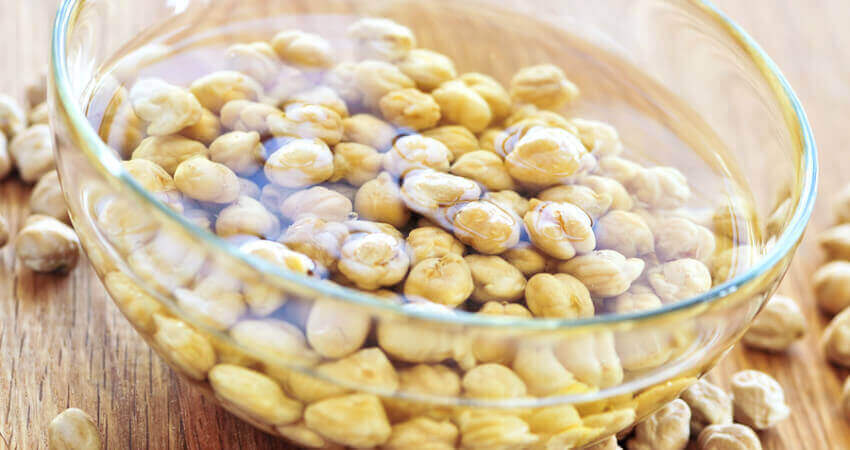 What is Aquafaba?
Aquafaba means "bean water," and if you want to add a subtle egg substitute with the perfect consistency to your next baking experiment, just open a can of chickpeas. The water you'll find in that can, the "bean water," is aquafaba ready to use. If your recipe calls for a whipped, peaked consistency, just whisk your aquafaba in a bowl until it thickens. And if you'd rather make it completely from scratch, just cook chickpeas in a pot of water and save the water—that is, the aquafaba.
When the news started to spread that aquafaba could serve as a substitute for eggs, there were a few groups that were especially thrilled. First and foremost, the vegan community. As people who choose not to eat any animal products (including eggs and dairy), this was the first time they'd come across an affordable way to bake old egg-based favorites like meringues. Of course, people with egg allergies also had reason to celebrate, and anyone could see the satisfaction in getting good (free!) use out of something we usually throw away.
As for the rest of us, we don't have to be vegan or allergic to eggs to see the benefit in getting some added nutrition. Every time you open a can of chickpeas to get some aquafaba, it'll prompt you to add the chickpeas to your next nutritious meal or recipe, and even to use them in usually egg-inclusive favorites such as omelettes and cookies.
An easy cholesterol-free breakfast dish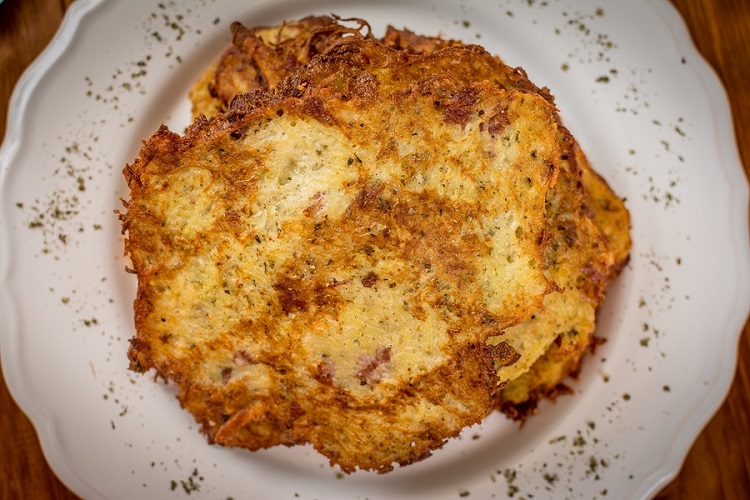 Ingredients
¾ cup / 164 g chickpeas, cooked or canned/drained, mashed
½ cup / 75 g potato, shredded
1 small yellow onion, pureed
½ Tbsp. / 2 g fresh oregano, chopped or:
1 tsp. / 1 g dried
1 Tbsp. / 3 g chives, chopped
1 clove garlic, minced or:
½ tsp granulated/powder
¼ tsp / 1½ g ground black pepper
1 Tbsp. / 15 ml olive oil
Instructions
Combine first 7 ingredients.
Brush ½ of the oil in an 8-inch / 20-cm lidded non-stick skillet. Warm over medium-high heat.
Form two patties from the chickpea mixture, add to the pan, and cover. Lower heat to medium, and cook for 5 minutes.
Lift the hashlette patties with a large spatula, brush remaining oil over bottom of pan, and return hashlettes to the pan to cook the other side. Cover pan, and cook for an additional 5 minutes, until cooked through and golden brown.
Can be frozen.
Exchanges per Serving: 1 Carb, 1 Protein, 1 Fat
Preparation Time: 10 minutes
Cooking Time: 10 minutes
Difficulty Rating: 1
Health Level: 5
Serving Size: 1 hashlette
Serves: 2
A decadently healthy mouthful for your sensible sweet tooth!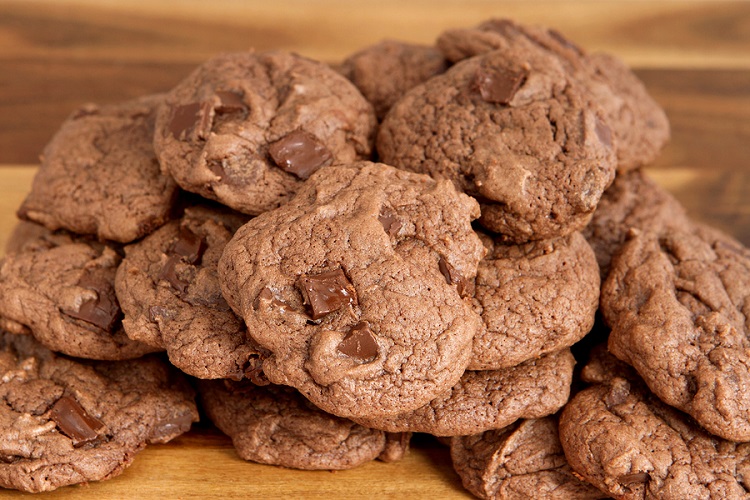 Ingredients
1½ cups / 240 g chickpeas, cooked or canned and drained* (preferably low-sodium)
1 cup / 120 g shelled nuts of choice
¼ cup / 60 ml pure maple syrup or coconut blossom nectar
2 Tbsp / 30 ml molasses
1 tsp / 5 ml vanilla extract
½ tsp / 2 g baking powder (preferably aluminum-free)
½ tsp / 2 g baking soda
¼ cup / 22 g pure cocoa/cacao powder
3 oz / 85 g dark chocolate, preferably over 65% cacao, coarsely chopped
1 tsp / 5 ml nut or olive oil
* Save liquid for other recipes!
Instructions
Turn on broiler/grill in oven.
Spread nuts over baking sheet and place in oven until warm and slightly fragrant.
Place nuts in a food processor or food chopper with an S-blade, and puree until smooth and buttery, about 20 minutes.
Add nut butter to large bowl.
Place chickpeas in food processor or chopper, and purée until well-mashed, gradually adding liquid sweetener.
Add sweetened chickpea mash to nut butter, along with nearly all remaining ingredients, save for the oil, stirring well to combine.
Change oven heat to 350°F / 180°C. Brush or mist the cookie sheet with olive or nut oil.
Use a tablespoon and scoop dough into balls and drop onto cookie sheet evenly spaced.
Bake for 20-25 minutes.
Exchanges per Serving: 1 Sweet
Preparation Time: 10 minutes
Cooking/Baking Time: 30 minutes
Difficulty Rating: 1
Health Level: 4
Serving Size: 2 cookies
Serves: 2
How Healthy is Aquafaba?
Let's start with the source…
It's no secret that the chickpea is one of the healthiest foods known to the modern world. Even though some people are nervous about its starch content and the potential impact on blood sugar and related metabolic health, the truth appears to be quite the opposite.
Clinical studies have consistently shown improvements in glucose and insulin levels in people adding chickpeas or chickpea flour to their regular daily diets. In a more recent clinical study, chickpea intake averaging as little as ⅔ cup (100 g) per day was associated with significant decreases in blood cholesterol and insulin levels, as well as a marker of insulin resistance.
A recent meta-analysis covering 21 clinical studies and nearly 1000 people showed an overall significant weight reduction advantage when eating about about ¾ cup (132 grams or 4½ ounces) of legumes/pulses, particularly chickpeas, every day. This was regardless of caloric restriction. In addition to just weight loss, some people even experienced loss of body fat, which is an even more important fitness outcome.
…and save the rest
When you know how much nutrition is found in aquafaba, you will be even more amazed that it has been discarded for so long—defying even the most basic logic. It is well-known that water-soluble vitamins and minerals are lost in cooking water, so it is no surprise that the chickpea version is an impressive source of rescued nutrients.
While aquafaba yields only ⅛ the energy of chickpeas and a trace of the carbohydrates (which includes soluble fibers), it yields about ¼ the protein, with the same distribution of essential amino acids, and fat, with minimal saturated fat and nearly ⅔ the beneficial omega-3 and omega-9 unsaturated fatty acids of chickpeas. B-vitamin levels in aquafaba range from ⅔ the amount in chickpeas to two-fold to five-fold! Water-soluble essential minerals range from just over ⅓ the amount in chickpeas to ⅔ to slightly more. Other essential nutrients reach ⅓. And because it's a plant-based food, it goes without saying that it is free of cholesterol, unlike eggs, which have earned an unjustified but terrible reputation over the years due to the high amounts of cholesterol they contain.
And what about the "non"-essential phytonutrients associated with unique health-supporting properties of chickpeas? Saponins, pectins, and antioxidant compounds found in the bean husk are leeched in cooking water—meaning that a notable proportion may be reclaimed in aquafaba. Saponins and pectins are believed to be the very compounds associated with the foaming and gelling that contribute to meringues, fondants, and other delights that would otherwise require egg, and have been linked to improved cardiovascular markers. Some of the sugars and soluble fibers have been suggested not only to improve digestive function, but also to normalize metabolic health by supporting the increasingly acknowledged "satellite" immune and hormone systems in the intestines.
Just as importantly, the cooking process inherent in aquafaba production neutralizes "anti-nutritional" factors in chickpeas, which otherwise would bind nutrients, create digestive discomfort, and possibly even interfere with hormonal function in some people.
Is Aquafaba Right for Me?
As we've seen above, starting to use aquafaba in our cooking and baking would be a step in the right direction for any health-conscious and frugal cook.
While the most obvious groups to benefit from this new egg substitute are the vegan community and those with egg allergies, it would be a shame for the nutritional value of aquafaba to be limited to those who will not or cannot eat eggs.
Chickpeas and their cooking liquid yield antioxidant phytochemicals, as well as vitamins and essential minerals, amino acids, and fatty acids. These components have been shown to support healthy digestion and metabolic function, including with regard to blood glucose and lipids. Even if you continue to eat eggs, there's a strong case for supplementing your cuisine with aquafaba. In addition to improved general health, aquafaba may give you the gentle push you need to find a mouth-watering recipe that gets drained chickpeas in your next nutritious meal.
Below are a couple more aquafaba recipes to get you started:
A dairy-free, vegan-friendly version of the classic ballerina-inspired dessert delicacy.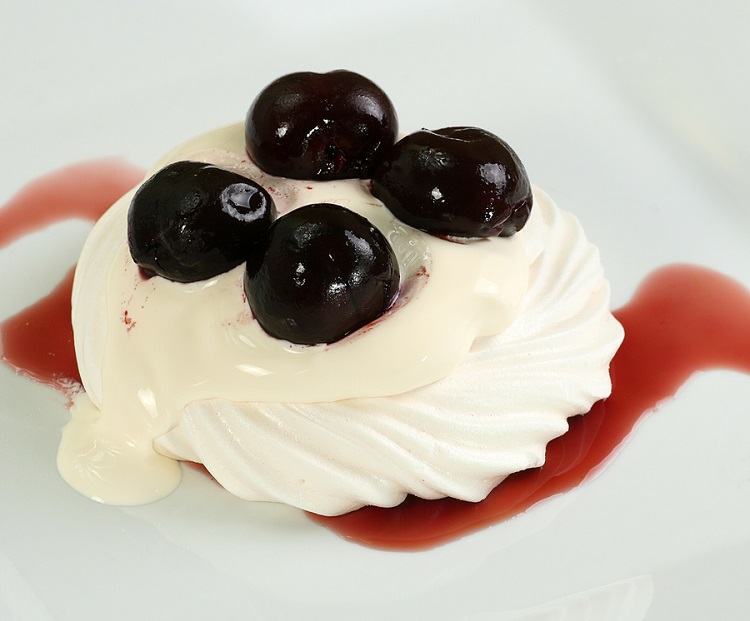 Ingredients
1 cup powdered whole sugar
1 cup / 240 ml aquafaba (liquid from 1 15-oz / 425-g can of low-sodium chickpeas)
½ tsp. / 2½ ml vinegar or 1½ g cream of tartar
2 tsp. / 10 g real vanilla, extract or powdered beans
1 cup / 160 g berries of any type
Instructions
Preheat oven to 200°F / 100°C. Line a baking sheet with parchment paper.
In a large bowl, beat the chickpea brine until soft peaks form, at least 5 minutes, depending on the strength of your mixer.
Add vinegar or cream of tartar, followed by a steady stream of sugar, then vanilla, beating continuously. Beat until stiff peaks form, for at least 5 additional minutes.
Pipe or spoon ⅓ cup / 80 ml of the meringue batter onto the parchment paper. Create a 2-in / 5-cm round indentation in the center of every meringue.
Bake the meringues for 2 hours in the oven (do not open the oven door during the first hour).
After 2 hours, turn off the oven and let the meringues cool inside for 30 minutes. Check for doneness by tapping on the meringue and listening for a hollow sound.
Meanwhile, prepare the Dairy-Free Whipped Cream, if you haven't already done so.
Remove the meringues from the parchment paper and set onto a serving dish.
Spoon 1 tablespoon / 15 ml of the cream into every indentation. Top with 1 tablespoon / 10 g berries.
Exchanges per Serving: 1 Sweet
Preparation Time: 20 minutes
Baking Time: 2 hours
Difficulty Rating: 2
Health Level: 4
Serving Size: 1 4-inch / 10-cm puff
Serves: 10
These cinnamon blondies are tender and moist in the center with a bit of a crackle on top. High in beneficial cinnamon "phytonutrients" that support blood sugar balance and healthy weight management, these treats are healthier than average dessert bar, and SO addictive.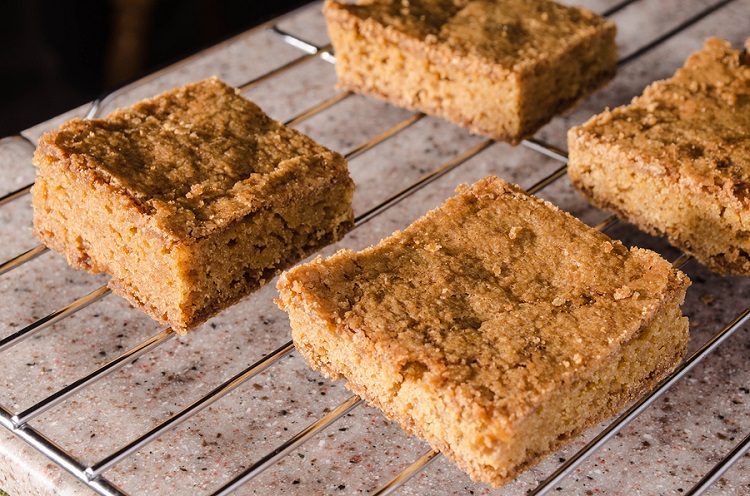 Ingredients
1 15-oz / 425-g can of low-sodium chickpeas, or 1½ cups / 240 g cooked chickpeas (from ⅔ cup / 120 g dry), drained (save the liquid for another use!)
¼ cup / 30 g old-fashioned (steel-cut or rolled) oats, gluten-free if needed
1½ cups / 170 g nuts
⅞ cup / 170 g coconut sugar
1½ Tbsp / 13½ g ground cinnamon
1 tsp / 5 ml pure vanilla extract
¼ tsp / 1¼ g baking soda
½ tsp / 2½ g baking powder, preferably aluminum-free
¼ tsp / 1½ g salt or substitute
Extra cinnamon (optional for garnish)
Instructions
Preheat oven to 350°F / 180°F. Line an 8-inch / 20-cm baking dish with parchment paper.
Grind nuts on high speed until they attain a smooth nut-butter texture, about 2 minutes. This will make about ½ cup.
Combine drained chickpeas, nut butter, and remaining ingredients in a food processor or mixing bowl, and purée until smooth.
Spread batter evenly in prepared baking dish.
Bake for 30 minutes until the top is firm and the sides start to separate from the baking dish.
Sprinkle cinnamon on top (if desired) before cutting and serving.
Exchanges per Serving: 1 Sweet
Preparation time: 10 minutes (+ 1½-4 hours if cooking soaked or unsoaked chickpeas)
Cooking time: 30 minutes
Difficulty Rating: 2
Health Level: 4
Serving Size: 2-inch / 5-cm square
Serves: 16
Sources