A dairy-free, vegan-friendly version of the classic ballerina-inspired dessert delicacy.
Click to get more Easy, Healthy Recipes
Preparation Time

20 minutes

Cooking Time

2 hours

Difficulty Rating

2

Health Level

4

Serves

10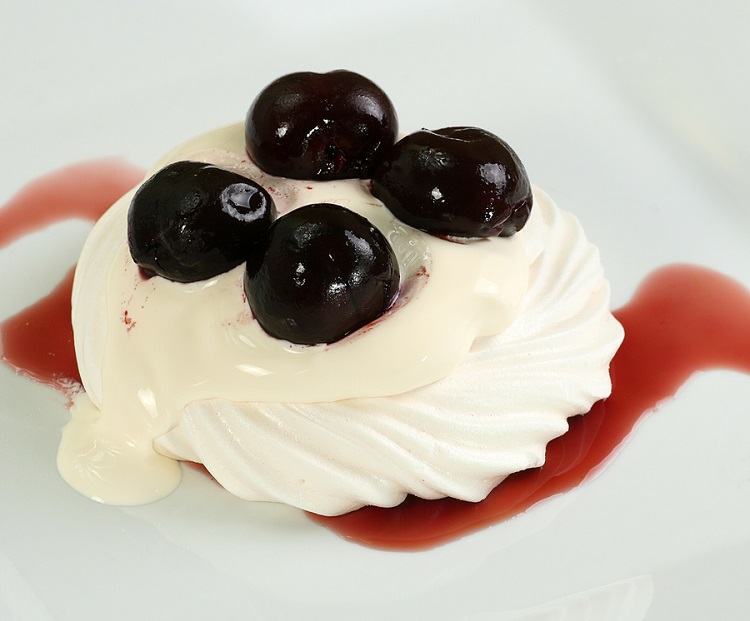 Ingredients
1 cup powdered whole sugar
1 cup / 240 ml aqua faba (liquid from 1 15-oz / 425-g can of low-sodium chickpeas)
½ tsp. / 2½ ml vinegar or 1½ g cream of tartar
2 tsp. / 10 g real vanilla, extract or powdered beans
1 cup / 160 g berries of any type
---
Directions
Preheat oven to 200°F / 100°C. Line a baking sheet with parchment paper.
In a large bowl, beat the chickpea brine until soft peaks form, at least 5 minutes, depending on the strength of your mixer.
Add vinegar or cream of tartar, followed by a steady stream of sugar, then vanilla, beating continuously. Beat until stiff peaks form, for at least 5 additional minutes.
Pipe or spoon ⅓ cup / 80 ml of the meringue batter onto the parchment paper. Create a 2-in / 5-cm round indentation in the center of every meringue.
Bake the meringues for 2 hours in the oven (do not open the oven door during the first hour).
After 2 hours, turn off the oven and let the meringues cool inside for 30 minutes. Check for doneness by tapping on the meringue and listening for a hollow sound.
Meanwhile, prepare the Dairy-Free Whipped Cream, if you haven't already done so.
Remove the meringues from the parchment paper and set onto a serving dish.
Spoon 1 tablespoon / 15 ml of the cream into every indentation. Top with 1 tablespoon / 10 g berries.
Serving size: 1 4-inch / 10-cm puff
Exchanges per Serving: 1 Sweet
---