We are all looking for an interesting way to spend some quality time with our kids. It's not a secret that kids just love baking cake, snacks and all kinds of unhealthy food. It doesn't always have to be this way!
Here are 5 tasty recipes that your kids will just love to cook!
Definitely a good way to bring the family together.
Enjoy!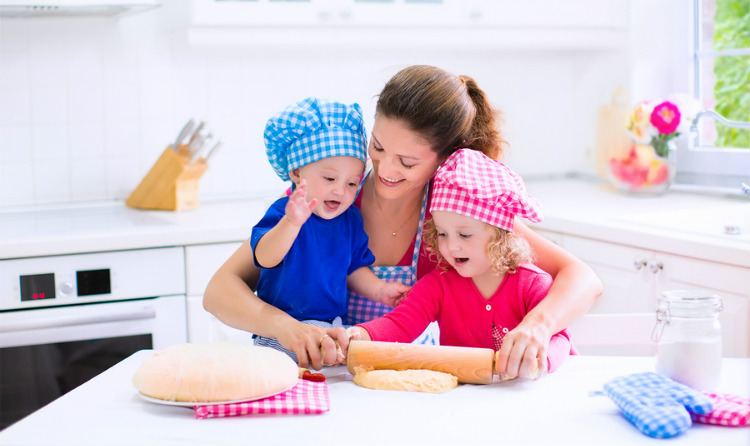 1. Oat Pancakes
Ingredients
3 cup / 720 ml raw milk
2 cups / 310 gm oats, uncooked
3 eggs, well beaten
1/2 cup / 160 gm quinoa flour
Dash of salt
1 1/2 tsp. / 7 1/2 gm baking powder
1 Tbsp. / 15 ml canola oil
1 cup / 150 gm sliced bananas
1 cup / 165 gm sliced strawberries
1 tsp. / 5 ml Stevia syrup
Your choice of syrup (optional)
Raw butter (optional)
Directions
Sprinkle the Stevia syrup on the sliced bananas and strawberries, and let steep.
In a large bowl, stir the raw milk into the oats; steep the oats in milk for 12 hours. When the oats are soft, mix in the eggs with the quinoa flour, oil, salt, and baking powder. Heat a griddle, brushed lightly with oil, over medium-high heat. Pour half a cup of batter on the center of the griddle. Cook until air bubbles appear. Flip the pancake and cook for about a minute more.
Serve with steeped bananas and strawberries. Top with butter (1 tsp. / 5 gm = 1 fat serving) and/or syrup (1 Tbsp. / 15 ml = 1 carb serving), if desired.
Comments
Two breakfast favorites come together in harmony with fresh fruits and your favorite syrup. Yummilicious!
Preparation Time: 15 minutes
Cooking Time: 20 minutes
Difficulty Rating: 1
Serving Size: 1 pancake
Serves: 4–6
2. Lemon Cottage Cheese Muffins 
Ingredients
1 cup / 240 gm low-fat cottage cheese
1 cup / 120 gm ground skinless almonds
1 cup / 160 gm rice flour
1 tsp / 5 gm baking powder
½ tsp / 2½ gm dried basil
½ tsp / 2½ gm salt
1 tsp / 5 gm baking soda
¼ cup / 60 ml lemon juice
¼ cup / 60 ml water
Directions
Preheat your oven to 400°F / 200°C degrees. Spray a mini-muffin pan with nonstick cooking spray. In a bowl, combine the cottage cheese with the ground almonds, flour, baking powder, baking soda, and basil. In a separate bowl, beat together the water and lemon juice with a sprinkling of salt. Combine the liquid mixture with the dry ingredients. Mix to blend well.
Spoon the mixture into the mini-muffin (each should be nearly full). Place the muffin pan over the center rack of the preheated oven. Bake for about 15 minutes. Transfer the muffin tray onto a cooling, rack and let stand for about 10 minutes before taking out the muffins to serve.
Comments
This recipe is on the savory and salty side of the palate, rather than the traditional characteristic sweetness you would expect from lemon muffins. This is a delicious wake-up goody to perk up your mornings, the perfect accompaniment to a cup of your favorite brew.
Per Serving: 1/12-1/6 Carb, 1-2 Protein, 0 Fat
Preparation Time: 10 minutes
Cooking Time: 15-20 minutes
Difficulty Rating: 1
Serving Size: 2-4 mini-muffins
Serves: 6-12
3. Pizza Pesto al Greco
Ingredients
SWG* wraps, 4-8 small or large
2 Tbsp. / 30 ml olive oil
1 bunch spinach
2 Tbsp. / 30 ml cottage cheese
2 cloves garlic, grated
Salt to taste
Toppings:
½ lb. / 225 gm chicken breast, grilled and sliced thinly
20 olives, pitted and halved
20 cherry tomatoes, halved
4 artichoke hearts, sliced
¼ cup / 60 gm raw cheese, crumbled
Directions
Preheat the oven to 400°F / 200°C
Lightly coat both sides of the SWG* wraps with a small amount of olive oil using a pastry brush. Arrange the wraps on baking trays and set aside.
Meanwhile, prepare your pesto by combining the remaining olive oil with the spinach, cottage cheese, and garlic in a blender or food processor. Pulse beat to process for 2 minutes, adding 2 tablespoons of water as needed. Sprinkle in a dash of salt, or adjust the amount to suit your taste.
Place the baking sheet in the preheated oven and for approximately 5 minutes, or until wraps are slightly toasted.  Remove from heat, and evenly spread the prepared pesto sauce over the toasted wraps; arrange your toppings with equal distribution of all the remaining ingredients. Return to the oven and bake for 3 minutes more or until crust turns crispy.
Comments
The secret to making this great-tasting treat great-for-you is in using SWG*wraps instead of traditional pizza dough, and choosing healthy toppings. The spinach pesto brings a whole new twist to enjoying this dish with a crunchy crust.
Cooking Time:
 10 minutes
Difficulty Rating:
 1
Serving Size:
 1-2 small or ½-1 medium
Serves:
 4-8
---
* Sprouted whole grain
4. Fruit & Nut Cereal Bars
Ingredients
2 large eggs, omega-3 or farm-fresh
¼ cup / 50 gm monkfruit sweetener
1½ Tbsp. / 22½ ml canola, almond, or hazelnut oil
2 cups / 310 gm oven-toasted oats
1 cup / 85 gm chopped organic dried fruit
⅓ cup / 40 gm chopped oven-toasted nuts
1½ Tbsp. / 15 gm whole wheat or rice flour
½ Tbsp. / 7½ gm vanilla or almond extract
½ Tbsp. / 4 gm ground cinnamon (optional)
Directions
Preheat oven to 325°F / 160°C. Spray a medium baking pan with non-stick cooking spray.
Mix all ingredients together, and spread in baking pan. Bake for 30 minutes, until lightly toasted. Cool and cut into bars.
Comments
Tired of relying on expensive "energy" bars that might not be any better than candy? These great granola-like treats can be a served for breakfast, between-meals, or as a healthy solution to hunger when you're on-the-go. And they're as fun to make as they are to eat!
Preparation Time: 15 minutes
Baking Time: 30 minutes
Difficulty Rating: 1
Serving Size: 1-2 bars
Serves: 8-16
5. Homemade Chocolate Ice "Cream"
Ingredients
1½ tsps / 7½ gm unflavored gelatin
1 Tbsp / 15 ml water
3 cups / 720 ml organic low-fat milk
3 large egg yolks , omega-3 or free-range/grass-fed
14-oz / 420-ml can nonfat sweetened condensed milk
¼ cup / 60 gm unsweetened pure cocoa powder
2 oz / 57 gm chopped unsweetened chocolate
Directions
1. Sprinkle gelatin over water in a small bowl; let stand, stirring once or twice, while you continue.
2. Pour half of the milk (1½ cups/360 ml) into a large saucepan. Add cocoa and chocolate to the milk.
3. Heat the milk mixture over medium heat until steaming. Whisk egg yolks and condensed milk in a medium bowl. Gradually pour in the hot milk, whisking until blended. Return the mixture to the pan and cook over medium heat, stirring with a wooden spoon, until the back of the spoon is lightly coated, 3-5 minutes. Do not bring to a boil, or the custard will curdle.
4. Strain the custard through a fine-mesh sieve into a large bowl (must be very clean). Add the softened gelatin and whisk until dissolved. Whisk in the remaining milk. Cover and refrigerate until chilled, for at least 2 hours.
5. Whisk ice cream mixture and pour into the canister of an ice cream maker. Freeze according to manufacturer's directions. If necessary, place the ice cream in the freezer to firm up before serving.
Ice cream can be stored in an airtight container in the freezer for up to 1 week.
If you want to flavor the ice cream with stir-ins such as crumbled cookies, toasted nuts, chopped fruit, etc., here are a few tips:
• Stir-ins should be small, about the size of a pea.
• Cool toasted ingredients completely before adding them to the ice cream maker.
• Add stir-ins to the ice cream maker during the last 5 minutes of freezing.
• Check your ice cream maker's instructions when it comes to judging the volume of your stir-ins. In general, the ratio is 1 cup/240 gm of stir-ins per quart/liter of ice cream.
Comments
Frozen desserts can be a good source of calcium and even protein if done right! With this recipe, you can enjoy a treat once thought to be forbidden in a healthy lifestyle.
Per Serving: 2½-5 Carbs, 1⅓-2⅔ Protein, ½-1 Fat
Preparation Time: 15 minutes
Chill Time: 2¾ hours
Difficulty Rating: 2
Serving Size: ½-1 cup
Serves: 4-8