And why is it all the rage?
Grown around the world, coconuts have long been popular in the Far East and South Pacific. While slow to catch on in the West, in large part due to high percentage of saturated fat that the oil contains, coconut products are slowly starting to gain momentum around the world, due to the many health and cosmetic benefits that they offer. But first, let us clarify what coconut oil is – and what it isn't.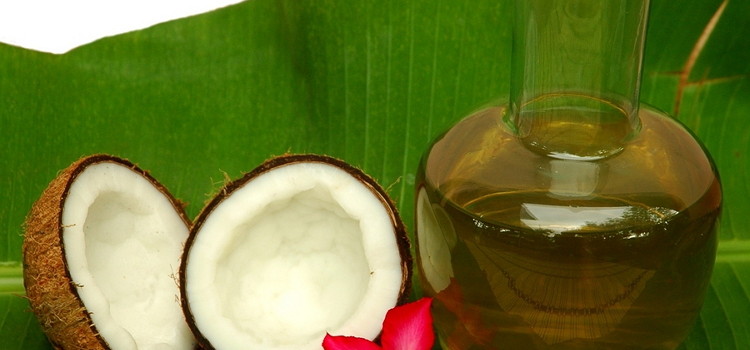 Containing nearly 90% saturated fat, coconut oil becomes solid below 76º F and has a thick, buttery consistency. For this reason, it is often called coconut butter, but in reality, coconut oil and coconut butter are two different entities. Coconut oil is the oil that has been extracted from the white flesh of the coconut fruit. Coconut butter, on the other hand, is the coconut flesh that has been ground up and made into a spreadable paste.
When shopping for coconut oil, you are sure to come across both "virgin" and "cold pressed" varieties. Unlike olive oil, there is no industry standard for "virgin" coconut oil. Virgin coconut oil has simply come to mean that the oil is made directly from fresh coconut rather than dried, or has not been processed after basic rendering[1]. "Cold pressed" refers to the fact that oil has been pressed out of the fruit in a controlled manner, so that temperatures do not exceed 120º F.
In addition to oil and butter, coconut can be eaten fresh or dried, and the liquid found inside the fruit can be drunk, as can the juice of the grated fruit. Even the flower buds of the coconut are edible, and the sap can be used to make a low-glycemic sweetener, known as coconut sugar. This makes the coconut a very versatile fruit![2]
How do you use coconut oil?
Coconut oil is not just a food to eat or cook with. It has been studied medicinally, and found to have positive results for those health issues, from cardiovascular disease to diabetes, chronic fatigue, Crohn's disease and irritable bowel syndrome[3]. It may even support weight loss or slow the progression of Alzheimer's disease[4].
Studies have also shown the positive effects that coconut oil can have on those suffering from skin conditions such as xerosis[5] and atopic dermatitis[6]. These findings suggest benefits of coconut oil for rehydrating dry skin.
The Journal of Cosmetic Science published a study in 2003 demonstrating how coconut oil penetrates the hair shaft due to the fatty acid structure[7]. Those suffering from dry, fragile hair (often the case for those who color or iron their hair frequently) should apply coconut oil to the hair before going to sleep. Additionally, coconut oil reduces protein loss remarkably in the cases of both damaged and undamaged hair when used before and after washing one's hair.
But even if you don't suffer from these issues, coconut oil can be very tasty – and enhance your beauty! Here's how:
Coconut Oil in the Kitchen
One of the best oils for frying, coconut oil does not deteriorate at high heat, even after 8 hours of continuous deep frying at 365°F.[8] This is due to the high content of saturated fat in the coconut oil, which makes it resistant to heat. That's why when baking, you can easily replace butter with solid coconut oil, or use it as a liquid oil for frying, substituting for other oil or fat at a 1:1 ratio.
Have you caught on to the "bulletproof coffee" trend? Many claim that adding butter to coffee promotes weight loss, boosts energy and improves mental clarity[9]. If you're interested in experimenting with your morning cup o' joe, try adding a splash of coconut oil for extra flavor and see if you experience the benefits that many claim to enjoy!
Want to add some more coconut oil to your breakfast? Spread some coconut oil on your morning toast instead of butter. Or enjoy coconut oil throughout your day with these delicious recipes from the Trim Down Club!
Cosmetic Benefits of Coconut Oil
The advantages of coconut oil are not limited to how you eat it. Here are other ways you can use coconut oil:
A little bit of coconut oil goes a long way to moisturize your skin!
Use coconut oil to exfoliate dry skin by mixing ½ cup coconut oil with ¾ cup brown sugar or sea salt.
Get frizzy hair under control by rubbing coconut oil into your hair and leaving in for ten minutes before showering, or even sleeping with coconut oil in your hair. (Be sure to wash your pillowcase afterwards!)
Or for a subtly sweet, natural lip balm, treat your chapped lips to a smidgen of coconut oil.
References
[1] Shilhavy B, Shilhavy M. What Type of Coconut Oil is Best? How to Choose a Coconut Oil. 1 Mar 2014. CoconutOil.com. Accessed October 24, 2015.
[2] Trim Down Club. The Coconut Craze. 11 May 2013.
[3] WebMD. Coconut Oil. Accessed November 5, 2015.
[4] Medical News Today (MNT). Coconut Oil: Health Benefits, Nutritional Breakdown, Risks. 2015 Aug 11. Accessed November 5, 2015.
[5] Agero AL, Verallo-Rowell VM. A randomized double-blind controlled trial comparing extra virgin coconut oil with mineral oil as a moisturizer for mild to moderate xerosis. Dermatitis. 2004;15(3);109-16.
[6] Verallo-Rowell, Vermen M, Dillague, Kristine M, Syah-Tjundawan, Bertha S. Novel Antibacterial and Emollient Effects of Coconut and Virgin Olive Oils in Adult Atopic Dermatitis. Dermatitis. 2008;19(6):308-315. doi: 10.2310/6620.2008.08052.
[7] Rele AS, Mohile RB. Effect of mineral oil, sunflower oil and coconut oil on prevention of hair damage. J Cosmet Sci. 2003;54(2):175-92.
[8] Srivastava Y, Semwal AD.A study on monitoring of frying performance and oxidative stability of virgin coconut oil (VCO) during continuous/prolonged deep fat frying process using chemical and FTIR spectroscopy. Journal of Food Science and Technology. 2015 Feb;52(2):984-91. doi: 10.1007/s13197-013-1078-8. Epub 2013 Jul 4.
[9] Shape. The Buzz Behind Bulletproof Coffee. Accessed November 5, 2015.