This recipe is adapted from a traditional Brazilian fish stew. It combines the rich flavors of coconut milk, tomato, peppers, and cilantro.
Click to get more Easy, Healthy Recipes
Preparation Time

30 minutes

Cooking Time

25 minutes

Difficulty Rating

1

Serves

12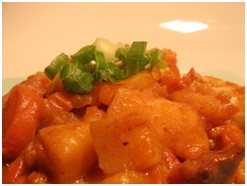 Ingredients
1½ lbs. / 675 g salmon fillets
1 cup / 16 g cilantro/coriander leaves, chopped
28 oz. / 800 g whole tomatoes, blanched
2 cloves garlic, cut in half
1 onion, chopped
1 tsp. / 6 g sea salt
1 chili pepper, chopped
1 Tbsp. / 15 ml olive oil
¼ cup / 60 ml rice vinegar
1 Tbsp. / 15 ml coconut oil
1 zucchini, chopped
1 sweet potato, diced
1 bell pepper, chopped
About a cup / 240 ml of water
½ cup / 45 gm chopped green leeks for garnish
¾ cup / 180 ml coconut milk
---
Directions
Place salmon in a large bowl. In a food processor, blend the cilantro, tomatoes, garlic, onion, salt , chili pepper, brown rice vinegar, and oil.
Pour over the salmon. Marinate for at least 30 minutes before cooking.
In a large frying pan over medium heat, add a tablespoon of coconut oil and heat. Stir in the sweet potato and pan-fry for 1 minute.
Add ½ cup / 120 ml of water, as needed. Add bell peppers and zucchini; continue cooking until tender, for a little over 7 minutes; add another ½ cup / 120 ml of water, if needed.
Stir in the coconut milk, and bring to a rolling boil before reducing the heat to simmer for 3 minutes.
Add the fish with the marinade; simmer for 10 minutes more. Turn off the heat and stir in the green leeks.
Serve over steamed brown rice or quinoa, if desired (½ cup / 100 gm = 1 carb serving).
Comments
Serving Size:
ֲ¾ cup
Exchanges per Serving:
ֲ2 Protein, 1 Veg
---