The lights on the tree are twinkling, the snow is falling softly, and the warmth of the fireplace beckons you to curl up in your most comfortable chair with a hot cup of Merry Mint Mocha. Here's the recipe!
Click to get more Easy, Healthy Recipes
Preparation Time

5 minutes

Cooking Time

10 minutes

Difficulty Rating

1

Health Level

5

Serves

2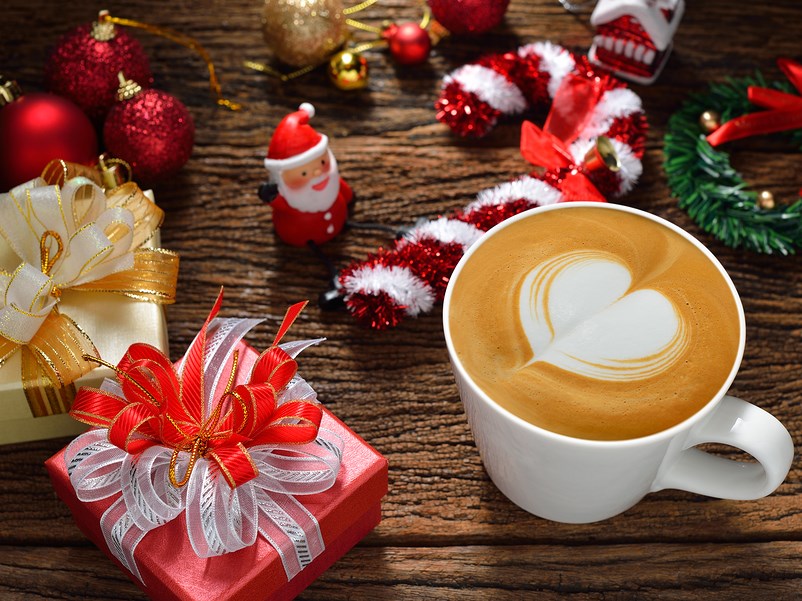 Ingredients
2 tsp. / 10 g espresso coffee beans, preferably organic
5 sprigs' worth of fresh mint leaves, chopped + extra whole mint sprigs or leaves for garnish, if desired or ⅛ tsp. / ⅝ ml peppermint flavor extract
¾ cup / 180 ml water
1½ cups / 360 ml 2% fat milk, preferably organic pastured or organic soy
1 Tbsp. / 10 g pure cocoa powder + extra for garnish, if desired
Natural sweetener of choice to taste (optional)*
*Xylitol works best with mint.
---
Directions
Grind espresso beans (with the mint leaves, if using).
Brew espresso with ½ cup / 120 ml water.
Meanwhile, heat ¼ cup / 60 ml water to a boil and dissolve the cocoa powder in it, followed by your sweetener of choice. Add peppermint extract, if using. Stir well.
Place milk in a saucepan over a stove burner set to medium, and heat until steam rises from the milk.
Pour milk into a lidded glass jar. Insert a whisk, and spin it back and forth until froth forms to your taste.
Close the jar tightly, and shake it for 30 seconds. Uncover the jar, and microwave it for approximately 30 seconds.
Mix the brewed espresso with cocoa syrup.
Fold in the milk mixture.
Garnish as desired with additional cocoa powder, mint leaves, or whipped cream (2 Tbsp. / 30 g = ½ Carb + 1 Fat exchange).
Serving size:1 cup / 240 ml
Exchanges per Serving: ½ Carb, ½ Protein, 0 Fat
---