There isn't much doubt: cooking or preparing your own food saves your weight, your waist-line, your health, and yes, money.
Unfortunately, the tradeoff is that cooking can take more time than simply stopping at the drive-through.
However, there are ways minimize the time you spend on (the unpleasant parts of) cooking.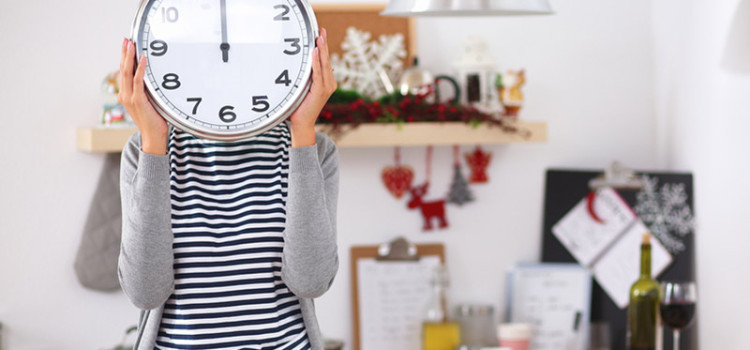 The single most important thing you can do to make cooking easy is to make a weekly menu. Then make a shopping list of the things you need and don't have—and buy them. The last thing you want to have to do is stop at the store on the way home.
Stock your pantry with the shelf staples: heart-healthy oils; whole grains such as brown rice and quinoa; canned veggies such as tomatoes and paste; dried and canned beans; broth and low-sodium bullions and stocks. These can always form the basis of simple meals.
Have a selection of spices and herbs and condiments such as ketchup or Worcestershire sauce. They can turn an ordinary meal into a special one and liven up leftovers with a lot of flavor and very few calories. Strongly flavored foods, such as anchovies, capers and really good Parmesan (expensive, but just a little adds amazing flavor) can be used in similar ways.
When your supermarket is running sales on such basics as meat, fish and poultry, milk, butter and bread, store them in your freezer. (Remove the butcher paper from the meat, fish and poultry and store in freezer bags.) Likewise, make a home for frozen veggies in your freezer. All of these expand your options for fast meals.
Organize your kitchen. Make it easy to find stuff, and store like with like: for example, measuring cups and spoons should go together. Get used to replacing stuff in its proper position every time and it will become easy to find. Keep your most-used cooking implements, such as spatulas and an assortment of wooden spoons, in a stovetop container, such as a wine cooler. Equipment you use the most should be easier to access than equipment you use the least.
"Mise en place" is French for, "Put in place." Begin cooking by measuring, chopping, slicing and dicing your ingredients so they're ready to go. The only time you should not use this technique is if your recipe is broken down into stages, such as, "While the onions are sautéing, cut meat into cubes."
Speaking of prep work, master basic cooking techniques, such as caramelizing onions and carrots to intensify their flavor. Basic knife skills are incredibly important because chopping, dicing, and slicing are the backbone of cooking.
You don't need to spend a lot of money on kitchen equipment to be a great cook. However, you should invest in 2 or 3 very good knives, then keep them razor-sharp. This is time and money well-spent because it makes prep work so much easier and faster. Just—be careful with them.
Cook once, prepare many ways: for example, roast chicken can become the basis of an excellent chicken and vegetable stew, chili or chicken salad the following night.
It's usually a lot easier to make a double portion of something, then freeze left overs, than it is to make the same thing twice. If you know you're going to be eating on leftovers for a few days, don't season while you cook. Instead, add different seasonings each night. However, if leftovers tend to be very tempting, it's important to freeze them promptly. And label and date everything so you don't accidentally serve beef brisket instead of vegetarian chili.
Meals don't have to be separate dishes of meat, two vegetables and a starch. Casseroles can easily combine protein, vegetables and complex carbohydrates in a single pot, such as Cheap and Flexible Lentil Stew. Master a couple of these for those nights when you're too tired for anything fancy but you still want a good meal.
Use your slow-cooker so you come home to a hot meal.
Create flavor bombs from small scraps of meals, like maple-smoked bacon grease, chicken drippings, stuffing to puree for a base for soup, leftover marinades or spice rubs. This will save you time and money—and add great flavor.
Generally speaking, cooking at high temperatures is not just faster but better, because the high heat caramelizes, adding savory, umami flavors to your food. So don't start with cold pans: heat them before adding your ingredients.
Sauté vegetables before adding stock, broth or water. This reduces cooking time and intensifies flavor.
Get into the habit of inventorying your pantry and replacing your basics every week. Recycle your favorite meals and menus.
An excellent way to reduce the mess and cleanup time is to clean as you cook—or better yet, if you're cooking for a family, someone else should be cleaning up as you're cooking.
What if you're cooking for a family? Adopt the principle of those who will not work, shall not eat. It's a changing—but still true—fact that the lion's share of domestic work falls on women. No matter how hard they work outside of the home. Assign chores so that everyone is doing a fair share of cooking and cleaning. If your partner believes fire is just a passing fad and can't be trusted to caramelize an onion to save his life, he can prep for you. Or clean up. The kids can help set the table and then clear it afterward.
These simple steps go a long, long way to making cooking faster, easier and more pleasant.