This turkey will bring a great smoked flavor to your Thanksgiving table.
Click to get more Easy, Healthy Recipes
Preparation Time

30 minutes

Cooking Time

4 hours

Difficulty Rating

3

Health Level

4

Serves

18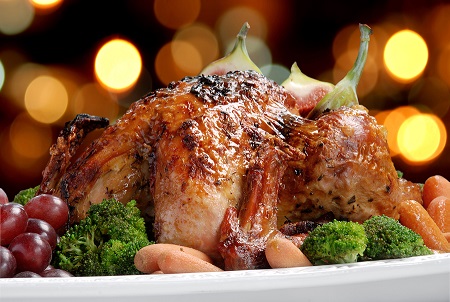 Ingredients
2 cups / 180 g gourmet smoking chips (e.g. applewood, hickory, mesquite), soaked in 4 cups water*
12 cloves fresh garlic, minced or:
3 Tbsp. / 7 g fresh thyme leaves or:

1 Tbsp. / 3 g dried whole or ground thyme

2 Tbsp. / 14 g juniper berries
2 tsp. / 3½ g coriander seeds, toasted
2 tsp. / 3½ g whole peppercorns or:

1½ tsp. / 3½ g ground black pepper

3 Tbsp. / 40 ml sodium-free liquid smoke
3 Tbsp. / 40 ml real maple syrup
¼ cup / 60 ml olive or high-oleic sunflower/safflower oil
1 12-lb / 5½-kg turkey, preferably organic pastured, fresh or thawed



* Wood chip soaking times to saturation depend on the size of the chips. The following are approximate guidelines:
Small (coin-sized): 2-3 hours
Large (matchbox-sized): 12-24 hours
---
Directions
Preheat oven to 350°F / 180°C .
Line a large roasting pan with a grilling rack with baking parchment or aluminum foil.
Drain the wood chips and place in the pan. Place the pan on a stove burner turned to "high" to allow the chips to smolder.
In the meantime, grind all the herbs and spices together in a food processor or chopper until resembling sand, about 5-10 seconds.
Empty the turkey of offal (neck, heart, gizzards, and liver), and set aside for use in other recipes. Pat the bird dry with paper towels, and mist or brush the entire surface with 2 tablespoons of oil. Rub the dry seasoning mixture under and over the turkey skin and inside the cavity.
Stuff the bird, if desired. Pin the wings back behind the base of the breast, and tie the legs together using kitchen twine.
Place a grilling rack over the smoldering chips in the roasting pan, and place the turkey on the rack. Tent the turkey/pan with additional parchment or foil. Reduce the heat to medium-low, and allow to smoke for 15 minutes.
Remove all covering and woodchips from the pan. Return the turkey to the grill rack, and place in the preheated oven. Roast for about 20-25 minutes per pound / 450 g of stuffed turkey, 15-20 minutes for not stuffed (total for this recipe: 4-5 hours if stuffed, 3-4 hours if not), basting every 15 minutes with pan juices.
In the meantime, mix together the maple syrup, liquid smoke, and 2 tablespoons of oil. Approximately 30 minutes before roasting is completed, drizzle the smokey-maple-oil mixture over the entire turkey surface. Repeat 15 minutes later.
The turkey is ready when a meat thermometer inserted into the thigh registers 170ºF / 75ºF.
Transfer to a platter and garnish with whole herbs and autumn fruits and vegetables.
Serving size:3 oz. / 85 g turkey meat (boneless/skinless)
Exchanges per Serving: 0 Carb, 3 Protein, 0 Fat
---