Pop open the bubbly for this herb-encrusted, color-jammed holiday celebration for the senses. Lean and full of antioxidants, this recipe will make THAT New Year's resolution easier to honor!
Click to get more Easy, Healthy Recipes
Preparation Time

20 minutes

Cooking Time

1 hours

Difficulty Rating

2

Health Level

4

Serves

12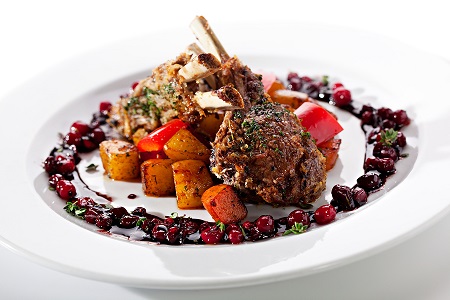 Ingredients
2 lbs / 900 g raw whole rack of lamb, preferably organic pastured, lean
4 medium rutabagas, scrubbed, cubed*
½ baby bear pumpkin or butternut squash (≈2 lbs. / 900 g), peeled, cubed*
4 red sweet bell peppers, cut into squares*
3 cups / 340 g fresh or frozen red currants
1 large red onion, finely chopped
¼ cup / 7 g fresh rosemary leaves, chopped or:

2 Tbsp. / 7 g dried + whole sprigs to garnish

¼ cup / 15 g fresh parsley, chopped or:

2 Tbsp. / 15 g dried + whole sprigs to garnish

¼ cup / 10 g fresh or dried whole thyme leaves or:

7 tsp. / 10 g dried + whole sprigs to garnish

¼ cup / 13 g mint leaves, chopped + whole sprigs to garnish
2 Tbsp. / 14 g paprika, sweet or smoked
4 tsp. / 8 g ground black pepper
¼ cup / 40 g whole green peppercorns
4 cloves fresh garlic, minced or:

4 tsp. / 12 g granulated powder

1 cup / 240 ml broth/stock, preferably vegetable
1 cup / 240 ml currant (or other berry) nectar
½ cup / 120 ml balsamic vinegar
3 Tbsp. / 25 g brown sugar, preferably raw whole cane or coconut
¼ cup / 60 ml olive oil
2 cups / 240 g whole grain bread crumbs or Panko
3 Tbsp. / 45 g Dijon or whole grain mustard
1 Tbsp. / 20 g honey
Gourmet kosher salt, preferably Aztec, Himalayan, Celtic etc. to serve
* Suggested cube and square size: ½-1 inch / 1-2½ cm
---
Directions
Preheat oven to 400°F / 200°C.
Cut off the cartilage and fat between the tips of the rib bones of the rack of lamb. Poke holes in the cleaned meat with a fork, one set every 1-2 inches / 2½-5 cm.
Combine all herbs and spices except garlic, whole peppercorns, and garnish.
Add ¾ of the blend in step 2 to the nectar, broth, vinegar, 1 clove's worth of minced garlic, and 1 tablespoon / 15 ml oil.
Place rack of lamb in marinating bag or container, and pour in mixture from step 3. Be sure to coat the meat thoroughly. Refrigerate for at least 1 hour (overnight is best, of course). Agitate the bag/container periodically to ensure even marinating.
Toss vegetable cubes together with remaining oil to coat well, then repeat with remaining seasoning blend from step 2.
If you intend to serve the lamb "rare," place vegetables on baking sheet on the middle rack of the oven, and pre-roast for approximately 15 minutes.
When lamb has marinated sufficiently, place on roasting rack in baking pan. Add roasted vegetables, and pour ½ cup / 120 ml marinade over lamb and vegetables. Place in oven and roast for 10 minutes, basting at least twice during this time.
Meanwhile, strain the solids from the marinade, and set aside the liquid for later use. Combine the solids with the mustard, honey, and breadcrumbs.
Spread the breadcrumb mixture from step 8 over the lamb meat, and continue roasting until thermometer inserted diagonally 2 inches / 5 cm into the center of the meat (not touching bone) registers 130°F / 55°C for medium-rare (about 10-15 minutes) or 150°F / 75°C for well-done (about 30 minutes).
Meanwhile, warm the remaining oil in a large non-stick skillet over medium-high heat. Add the onions, and sauté until translucent, about 1 minute.
Add in the marinade liquid, currants, sugar, and peppercorns. Bring the mixture to a boil, then lower heat and simmer until it thickens to form a sauce, about 6-10 minutes.
Roast lamb until thermometer inserted diagonally 2 inches / 5 cm into center (do not touch bone) registers 130°F / 55°C (for medium-rare), 20-25 minutes (up to 40 minutes for well-done). Transfer to serving platter, or cut for individual serving.
Transfer lamb and vegetables to a serving platter, or spoon vegetables onto individual plates, topping with lamb sections for individual servings.
Garnish with the sauce and fresh herb sprigs. Serve with colored gourmet salt, as desired.
Serving size:
2 oz / 60 g meat with 1 cup / 200 g vegetables, currants, and sauce
Exchanges per Serving:
2 Protein, 1 Veg, 1 Fruit
---