If you haven't yet tried green jackfruit, a great place to start is with this popular Paleo-friendly vegan take on a sandwich fan's best friend.
Click to get more Easy, Healthy Recipes
Preparation Time

15 minutes

Cooking Time

30 minutes (+10 minutes optional)

Difficulty Rating

2

Health Level

5

Serves

4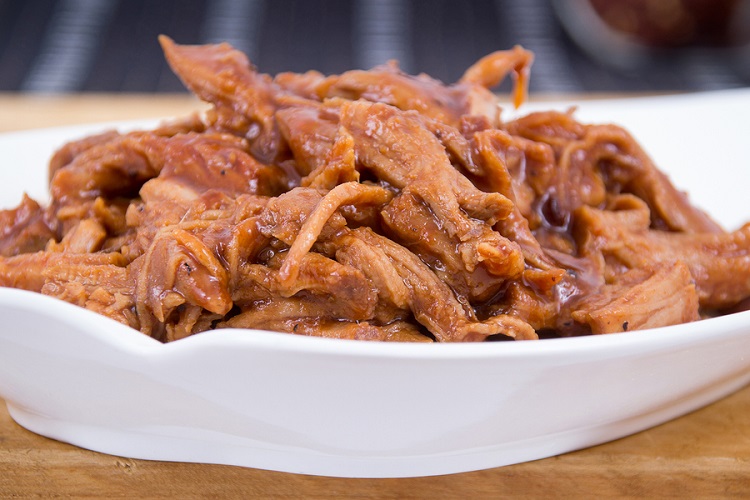 Ingredients
1¾ cups / 285 g green (young/unripe) jackfruit, fresh or canned/drained
2 tsp. / 10 ml olive oil
½ medium onion, minced
1 clove garlic minced or:

1 tsp. / 3 g granulated dried garlic or powder

1 tsp. / 5 ml maple syrup
2 tsp. / 10 ml coconut aminos or low-sodium soy sauce
1 tsp. / 2 g smoked paprika
½ tsp. / 1½ g chili powder, preferably chipotle
½ tsp. / 1 g ground black pepper
½ tsp. / 2 ml liquid smoke (optional)
½ cup / 120 ml vegetable broth
¼ cup / 60 ml tomato paste or organic ketchup (try ours)
---
Directions
If using fresh jackfruit:
Coat a knife and your hands with oil (to deflect the fruit's sticky residue), peel the fruit, and slice wedges of about ½-inch / 1-cm thickness; boil in water with 1 tsp / 6 g salt for about 10 minutes, until tender.
Preheat oven to 400°F / 200°C. Brush or mist a baking sheet with 1 teaspoon / 5 ml oil.
Remove the core section and seeds of the jackfruit wedges, and store for another recipe (these go well in salads!)
Warm the remaining 1 tsp / 5 ml olive oil in a lidded skillet over medium heat. Add onions and garlic, and saute until translucent, about 5 minutes.
In a medium-small bowl, combine the jackfruit with remaining ingredients other than the broth, and toss until well-coated.
Add the coated jackfruit to the pan, followed by the vegetable broth; cover, and simmer until very tender and liquid is reduced, about for 10-15 minutes.
Remove from heat, drain remaining liquid into the original mixing bowl, and set aside.
In the skillet, use tongs or a large fork to pull the jackfruit apart into thick strands.
Spread the strands onto the prepared baking sheet, place in middle rack of the oven, and bake for 20 minutes.
Combine with the reserved sauce before serving.
Serve as is (see exchanges), wrapped in lettuce leaf (=Free), or on a small (1-ounce / 28-g) dinner roll: 100% or sprouted whole grain (=1 Carb exchange) or Paleo (=½ Protein + 1 Fat exchange). Can be frozen
Serving size:
½ cup / 120 ml
Exchanges per Serving:
1 Carb, 1 Veg
---