No grains needed for this comfort food classic with a touch of class..
Click to get more Easy, Healthy Recipes
Preparation Time

20 minutes

Cooking Time

1-2 hours

Difficulty Rating

1

Health Level

5

Serves

8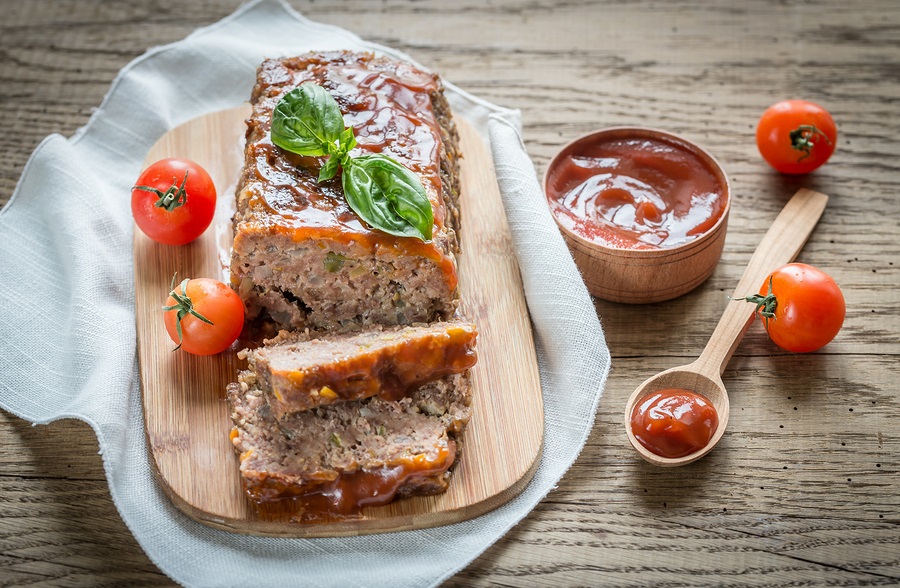 Ingredients
1 lb / 454 g organic pastured beef or red game meat (e.g., venison), ground
1 egg, organic 'wild-type' or pastured
½ cup / 50 g raw organic almonds, ground to a mealy flour
¾ cup / 200 g organic no-sugar-added tomato paste or Paleo Pomodoro Paste*
¼ cup / 6 g fresh basil, finely chopped or 1 Tbsp / 2 g dried
¼ cup / 16 g fresh parsley, finely chopped or 1 Tbsp / 1½ g dried
2 Tbsp / 4 g fresh oregano, finely chopped or ½ Tbsp / 1½ g dried
1 clove garlic, minced or 1 tsp / 3 g dried
½ tsp / 1 g black pepper, ground
1 tsp / 5 ml extra-virgin olive oil
1¾ lbs / 800 g organic heirloom tomatoes
1 Tbsp / 14 ml extra-virgin olive oil
---
Directions
*If making tomato paste (Paleo Pomodoro Paste) from scratch, follow steps 1-5; otherwise start at step 6:
Preheat oven to 300°F / 150°C. Brush baking sheet with 1 tablespoon / 15 ml olive oil.
Puree tomatoes in food processor or chopper with 'S' blade.
Pour tomato puree into the prepared sheet, and place in the middle of preheated oven.
Bake for 1 hour, turning drying mass every 10 minutes to ensure even cooking.
Reduce heat to 200°F / 150°C, and bake for an additional 7-10 minutes, until thick and dark
Place homemade or readymade tomato paste in large mixing bowl.
Add remaining ingredients, and blend thoroughly.
Increase oven setting to to 350°F / 175°C, and brush standard loaf baking dish with 1 teaspoon / 5 ml olive oil.
Fill prepared dish with meat batter, patting down with spoon or spatula to ensure even top surface.
Place pan in preheated oven, and bake for approximately one hour, until cooked through to desired doneness and meat thermometer registers 165°F / 75°C. (For a softer loaf with less top browning, cover with foil at the 30-minute point.)
Bake or serve with a topping of
Simple Homemade Gravy
(2 tablespoons / 30 ml = 1 Carb + 1 Fat exchange) or
Homemade Ketchup
(¼ cup/ 60 ml = 1 Veg exchange).
Serving size: ⅛ recipe
Exchanges per Serving: 2 Protein, 1 Veg
---