Roasting nuts adds deeper flavor and crispness. Don't skip this step!
Click to get more Easy, Healthy Recipes
Preparation Time

30 minutes

Cooking Time

75 minutes

Serves

12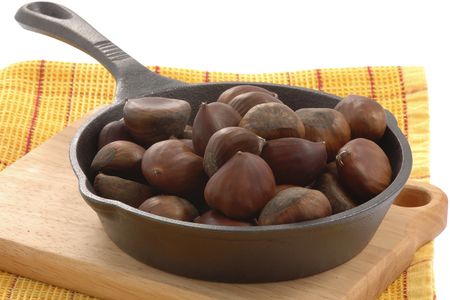 Ingredients
2 large parsnips
1 cup / 142 gm almonds
2 Tbsp. / 28 ml olive oil
1 red onion, finely chopped
2 cups / 140 gm brown/crimini/Italian/chestnut mushrooms
⅔ cup / 95 gm cooked chestnuts, roughly chopped
1 cup / 120 gm raw walnuts, roughly chopped
¼ cup / 30 gm nutritional yeast
½ tsp. / 3 gm salt or salt substitute
1 cup / 110 gm SWG* or 100% whole grain breadcrumbs
2 Tbsp / 4 gm chopped fresh sage
1 Tbsp. / 8 gm vegan egg substitute, dissolved in ¼ cup / 60 ml water or ¼ cup / 60 ml flaxseed gel
---
Directions
Pre-heat the oven to 350°F / 190°C. Line a loaf pan with foil and mist with olive oil.
Peel and quarter the parsnips, steam until tender, and mash.
In a food processor or chopper, grind the walnuts together with the yeast and salt/substitute until you get a course texture resembling parmesan cheese. Set aside.
Toast the almonds in a frying pan over a high heat until golden brown, then set aside.
Turn the heat down to medium, add the remaining oil and chopped onion and cook for 5 minutes. Add the mushrooms and cook for another 7 minutes until nicely softened.
Roughly chop the almonds and put them in a large bowl along with the chopped chestnuts, walnut-yeast mixture, breadcrumbs, and chopped sage.
Add the mashed parsnip and softened onions and mushrooms followed by the egg replacer or flaxseed gel.
. Season and stir together well.
Spoon the mixture into the prepared pan, pressing it down well and smoothing the top. Cover tightly with foil and bake for 45 minutes.
Remove the foil from the top and put the loaf back in the oven for another 15 minutes, then take out of the oven and put a large serving plate over the top of the tin.
Holding the tin with oven gloves, turn the plate over so the loaf inverts on to the plate.
Carefully peel off the foil and cut into slices to serve.
*SWG = sprouted whole grain
Serving Size: ֲ1/12 roast
Exchanges per Serving: 1½ Carb, 1 Protein, 1 Fat
---