Bread is always more delicious right out of the oven, healthier when you can leave out preservatives, and more enjoyable when you use whatever flour and seasonings you want. SWG flour is made from grain that has been allowed to sprout after harvesting, resulting in peak enzymatic activity that makes the end product more digestible and the nutrients more bioavailable. It not only maximizes the value, but also makes the bread richer than the usual whole grain product. All of these are brought together in this recipe for fresh-baked health.
Click to get more Easy, Healthy Recipes
Preparation Time

2 hours

Cooking Time

50 minutes

Difficulty Rating

2

Serves

28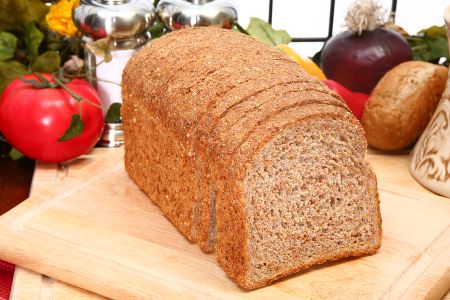 Ingredients
1½ cups / 360 ml warm water
1½ tsp / 8 g salt or substitute
¼ cup / 60 ml coconut sugar syrup (⅓ cup / 80 ml coconut sugar dissolved in ¼ cup / 60 ml water, boiled for 3 minutes while stirring, then cooled)
4 cups / 480 g SWG flour
1 (¼ oz / 7 g) package active yeast
---
Directions
Machine Method:
Add all ingredients to bread machine in order listed.
Set machine on wheat/light/1-lb loaf.

Hand Method:

Warm 1¾ cups of the water with the coconut sugar until the mixture reaches body temperature.
Add yeast to the water and sugar mixture. Set it aside for five minutes, or until it becomes foamy.
In a separate bowl, mix together salt and flour.
Add the water, sugar, and yeast mixture to the flour and salt, and mix until it forms one solid ball.
Allow the dough to rest for 10 minutes.
Knead for 10 minutes.
Allow the dough to rest for 10 minutes and then knead the bread for 10 more minutes.
Set the dough on a clean towel and allow it to rise until it doubles in volume (about 1½-2 hours).
Preheat oven to 375°F / 190°C. Spray a loaf pan with nonstick cooking spray.
Punch the dough down, form it into a loaf and put it into the prepared loaf pan.
Allow the dough to rise again until double in volume.
Bake in the preheated oven for about 45 minutes, or until the bread achieves a golden brown color.
Cool on a rack and serve.
Serving Size: 1 oz / 28 g slice
Exchanges per Serving: 1 Carb, 0 Protein, 0 Fat
---