What to do with extra or over-ripe bananas? Healthy muffins that just happen to be a timeless classic! Optimize your other ingredients for maximum nutrition. Easily made gluten-free, Paleo-friendly and vegan-friendly
Click to get more Easy, Healthy Recipes
Preparation Time

10 minutes

Cooking Time

20 minutes

Difficulty Rating

1

Health Level

5

Serves

12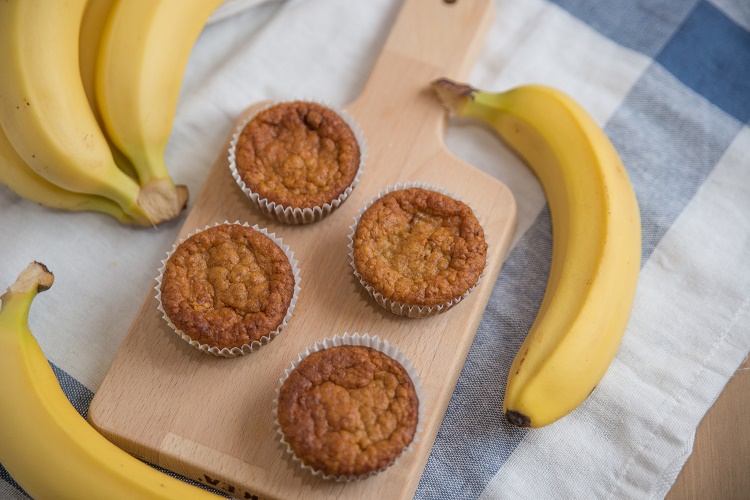 Ingredients
1½ cups / 180 g whole grain/wholemeal flour, regular or gluten-free or:

1 cup / 120 g almond* meal + ½ cup / 60 g tapioca flour

1 tsp / 5 g baking soda
1 tsp / 5 g baking powder, preferably aluminum-free
½ tsp / 3 g salt
3 large or 4 medium-small ripe bananas
¾ cup / 90 g Stevia or inulin sweetener for baking
1 large egg, preferably organic pastured or omega-3 or:

¼ cup vegan replacer (e.g., flaxseed gel, aquafaba, tapioca mixture)

⅓ cup / 80 g coconut or dairy butter, preferably organic pastured/grass-raised, melted

*If using almond meal blend, decrease butter amount to ¼ cup / 60 g
---
Directions
Preheat ovens to 350°F / 180°C. Prepare 12 muffin tins with baking cups.
In a large bowl, mix the first four ingredients.
In another bowl, mash bananas and mix in sweetener and egg/replacer, and butter.
Stir wet into dry mixture until moistened.
Fill cups ¾-full.
Bake for 20 minutes, until toothpick inserted into middle of muffin comes out clean.
Serving size: 1 muffin
Exchanges per Serving: 1 Carb, 1 Fat (=1 Sweet)
---