The Trim Down Club is putting together a concise nutritional reference guide for people that want to get the most out of their herb and spice rack.
There is so much to say about Cilantro and Coriander though, that we have decided to present it as it's own article.
Read on for the relevant in-depth truths behind this herb with 2 names.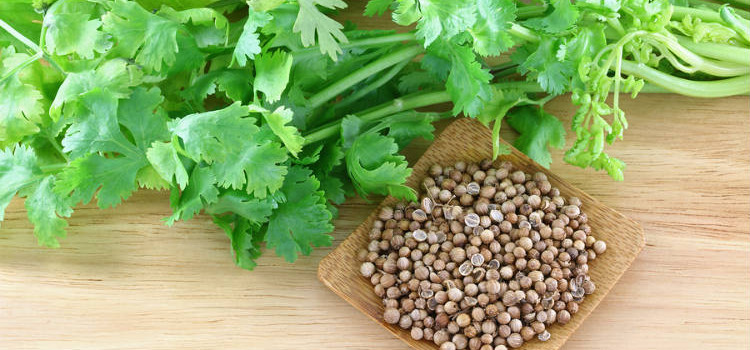 Cilantro ~ Coriander
Cilantro is a member of the carrot family and is also known as Chinese parsley or coriander. Cilantro is actually the leaves and stems of the coriander plant, while the spice known more widely as coriander is the seed.
Then & Now
Cilantro is an ancient herb which appears in many different cultures and places throughout history. It was the unpleasant smell of coriander that led to its use as a medicine, as the ancients believed that anything with such a strong and unpleasant odor must surely possess powerful curative and/or preventive attributes.
Coriander is mentioned in the Old Testament (Exodus, XVI, 31), and appears in texts from India and Egypt. The seeds have been found in Egyptian tombs, as the ancient Egyptians apparently believed that they could be used in the afterlife as food. Coriander was also used by Romans to preserve meat and by Hippocrates, the ancient Greek physician, for its medicinal properties. Chinese lore notes that consumers of coriander seeds will be become immortal, and traditional healers used it to cope with digestive and immune conditions (1). According to the British Pharmacopoeia, coriander was once used in ointments for the relief of rheumatism and arthritis, and water infused with the seeds to ease digestive disturbances (2).
Today, cilantro is used extensively throughout America, Asia, and Africa, and researched in controlled scientific settings for its medicinal properties. Cilantro has been found to yield many phytochemical compounds that are disease-preventing and health-promoting (3). Clinical studies have corroborated digestive benefits (4) and antimicrobial properties (5) as noted in historical use. Research in animals also suggested the potential of cilantro for preventing skin photoaging (6), exhibiting a hypolipidemic effect (7, 8) and suggested that coriander could help in reducing anxiety (9)
Appearance & Taste
The coriander plant (scientific name Coriandrum sativum) has delicately lacy green leaves. All parts of the coriander plant are edible with the parts most commonly used in cooking being the fresh leaves and dried seeds, which are round, striated, and tan. The roots are commonly used in Asian cuisine.
Despite the fact that coriander and cilantro come from the same plant they have different flavors. Both are known for having tastes that people either love or hate – very distinct, pungent, and almost sweet.
Nutritional Benefits
Cilantro leaves are an excellent source of vitamins A and K, with a 16-g cup of fresh sprigs providing approximately half of the recommended daily amounts of both vitamins, as well as the immune-supporting antioxidant quercetin, about 8.4 mg per cup (10) and prebiotics for gut health.
Coriander seeds yield B-vitamins (B1, B2, B3) and vitamin C, with 16 g (about 4 teaspoons) providing 2-4% of daily requirements, plus 4-17% for nearly all essential minerals, as well as 2 g of protein and nearly 7 grams of fiber (11).
Serving Suggestions
If you're looking for ways to include this wonder-herb in your foods here are some suggestions to get you going:
Throw some cilantro into a salad to add some extra flavor and color
Add color and flavor to scrambled eggs with chopped cilantro leaves or ground coriander seeds.
Upgrade potato salad with minced cilantro leaves.
Give breads and cracker recipes and exotic flare with ground coriander seeds.
Spice up savory dishes with any part of the plant.
Try these recipes from the Trim Down Club collection:
References
1. Ono M., Sheir W. & Wang Y. Ancient Wisdom, Modern Kitchen. Recipes from the East for Health, Healing and Long Life. 2010. Boston: Da Capo Lifelong Books.
2. Cartwright AC. The British Pharmacopoeia, 1864 to 2014: Medicines, International Standards. 2015. Farnham: Ashgate Publishing.
3. Kitts D.D. & Wong P.Y.Y. Studies on the dual antioxidant and antibacterial properties of parsley (Petroselinum crispum) and cilantro (Coriandrum sativum) extracts. Food Chemistry 2006;97(3):505-15.
4. Beikert FC, Schönfeld BS, Frank U, Augustin M. Antiinflammatory potential of seven plant extracts in the ultraviolet erythema test. A randomized, placebo-controlled study. Hautarzt. 2013 Jan;64(1):40-6.
5. Casetti F, et al. Antimicrobial activity against bacteria with dermatological relevance and skin tolerance of the essential oil from Coriandrum sativum L. fruits. Phytother Res. 2012 Mar;26(3):420-4.
6. Hwang, E., Lee, D.-G., Park, S. H., Oh, M. S., & Kim, S. Y. (2014). Coriander Leaf Extract Exerts Antioxidant Activity and Protects Against UVB-Induced Photoaging of Skin by Regulation of Procollagen Type I and MMP-1 Expression. Journal of Medicinal Food, 17(9), 985–995.
7. Chithra V. & Leelamma S. Hypolipidemic effect of coriander seeds (Coriandrum satvium): mechanism of action. Plant Foods for Human Nutrition, 1997;51(2):167-72.
8. Dhanapakiam P., Kumar A.S., Mini Joseph J., Moorthi M. & Ramaswamy V.K. The cholesterol lowering property of coriander seeds (Coriandrum sativum): Mechanism of action. Journal of Environmental Biology 2008;29(1):53-6.
9. Bisht S. & Mahendra P. Anti-anxiety activity of Coriandrum satvium assessed using different experimental anxiety models. Indian J Pharmacol 2011;43(5):574-77.
10. United States Department of Agriculture (USDA) Agricultural Research Service Full Report (All Nutrients): 11165, Coriander (cilantro) leaves, raw. National Nutrient Database for Standard Reference Release 27. Software v.2.2.6. Retrieved 10 Sep 2015.
11. United States Department of Agriculture (USDA) Agricultural Research Service Full Report (All Nutrients): 02013, Spices, coriander seed. National Nutrient Database for Standard Reference Release 27. Software v.2.2.6. Retrieved 10 Sep 2015.