Pairing an artichoke with a lively and citrusy cilantro pesto, is much more delectable than just pairing it with melted butter - with plenty of health benefits!
Click to get more Easy, Healthy Recipes
Preparation Time

Less than 5 minutes

Cooking Time

20-30 minutes depending on the size

Difficulty Rating

2

Health Level

5

Serves

2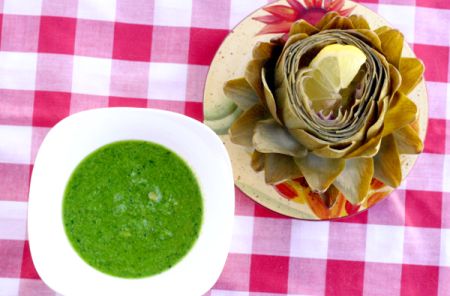 Ingredients
1 large globe or 2 medium-small artichoke(s)
1 Tbsp of lemon juice
1 cup of cilantro
½ cup of low-sodium vegetable broth
2 Tbsp of shredded parmesan cheese or:

1 Tbsp . nutritional yeast

3 scallions (white and green parts)
2 Tbsp of pine nuts or:

3 Tbsp if substituting with yeast for cheese

2 Tbsp of lime juice
Ground black pepper to taste
1 lemon wedge (for garnish)
---
Directions
Bring 2 inches of water with lemon juice to a boil in a medium saucepan.
While the water is heating, trim the top of the artichoke and remove the tough outer leaves.
Place the artichoke top down on a steamer basket in the pot. Cover the pan with a lid, but leave a little room for steam to escape.
Cook until a sharp pairing knife inserted into the stem goes in easily – 20-30 minutes. You can double check that it's done by removing a leaf and pulling it between your teeth. When the artichoke is done, remove it with a pair of tongs. Let it cool for 15 minutes, or until it can be handled comfortably. Use a metal spoon to remove the fuzzy choke. (A grapefruit spoon works perfectly for this.)
Combine the cilantro, broth, cheese or yeast, scallions, pine nuts, lime juice, and black pepper together in a blender or food processor.
Dip artichoke leaves and heart into the pesto and enjoy.
Serving size: ½ large or 1 medium-small artichoke, ½ cup dip
Exchanges per Serving: 0 Carb, ½ Protein, ½ Fat
---