Flavor, flavor, flavor! This savory specialty of the Middle East can dress up any main meat or vegan dish, and offers plenty of antioxidant power to boot.
Click to get more Easy, Healthy Recipes
Preparation Time

10 minutes

Cooking Time

30 minutes

Difficulty Rating

1

Serves

2 c / 480 ml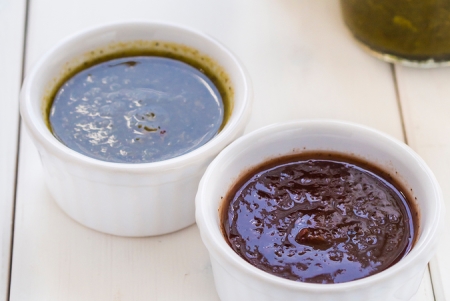 Ingredients
2 cups / 300 g tart green plums or ripe purple plums + 2 Tbsp. / 30 ml lemon juice
⅓ cup / 80 ml water
2 small garlic cloves, minced
¼ tsp. / 1 g chili pepper flakes
½ tsp. / 1 g whole coriander seeds or ground coriander powder
1 tsp. / 1 g fresh cilantro leaves, minced
1 tsp. / 1 g tarragon, minced
½ tsp. / 1 g dried mint, minced
1 tsp. / 6 g salt or substitute
---
Directions
If using whole coriander seeds, toast them until golden, and crush or grind to fine powder.
Place plums and water in a medium sized saucepan over medium heat, cover, and cook until soft, about 15-20 minutes.
Remove plums from heat and purée.
Simmer plum purée in a skillet over low heat for 2 minutes.
Add garlic, chili flakes, crushed/ground coriander, and sauté for about 5 minutes.
Add the salt or substitute and remainder of the herbs (and lemon juice, if using), and simmer for another 3 minutes. Remove from heat.
Can be stored in the refrigerator for up to one week.
Serving Size: 2 Tbsp. / 15 ml
Exchanges per Serving: 1 Carb, 0 Protein, 0 Fat
---