The buffet is open, filled with mounds of tempting foods – and the sky's the limit! The alcohol is also free, and you're on vacation. You want to indulge, but how much is too much? Here are 9 tips for a healthier vacation that you'll enjoy even more.
Whether you're a person who enjoys vacations packed with physical activity like challenging hiking, surfing or exploring new cities, or you're the type that prefers a more relaxed vacation of sleeping in, sunbathing and reading a book, it's important to think about your health and your body, even when you're away from home.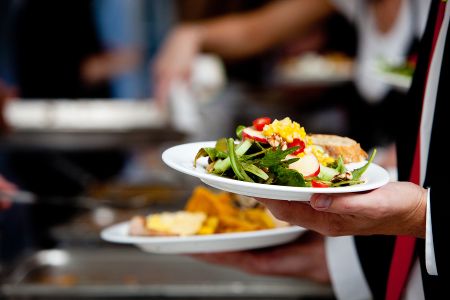 With a few simple tips, even an "all included" vacation can be a healthy one where you can recharge your batteries and have a great time without feeling deprived.
Pack the Right Shoes

A healthy vacation starts at home, so plan physical activity wherever you'll be. If it's a resort or hotel, make plans to use their pool and gym facilities. (And then treat yourself to a soak in the Jacuzzi or time in the sauna to unwind!) If you're staying in a vacation apartment in another city, look into what opportunities for exercise your destination has, and pack accordingly. Whether it's gym clothes, hiking gear or even dancing shoes (or all three!), if you come prepared, you'll be more likely to enjoy the more physical aspects of your vacation.
You're Hot? Go for a Swim

If there's a pool or beach where you'll be vacationing, you're in luck! Swimming is a great way to get some exercise without breaking a sweat. If you feel self-conscious in a bathing suit, try to hit the water early in the morning before most of the hotel or resort guests get out of bed, or simply wear a more modest bathing suit. Rash guards – those shirts surfers wear – with sleeves are a good choice. This isn't a fashion show: it's about having fun and being healthy. Just tune out any negative thoughts and dive in!
Healthy Eating, Even on Vacation

Vacations tend to be associated with unhealthy habits: binging at buffets and gorging at gourmet restaurants. But it doesn't have to be that way! If you're not doing the cooking, it may be the perfect opportunity to try new foods and load up on colorful salads that are too time consuming to prepare at home. Always try to stick to your meal schedule without skipping meals. This can be a challenge when you're out and about, so plan accordingly. Be sure to have meals that are balanced with carbs and proteins, to give you the energy you need to explore the city or enjoy the facilities of your resort. That way you won't be tempted to eat at fast-food restaurants or coffee shops just because your blood sugar has crashed. And don't forget to drink lots of water!
Buffet with Boundaries

Many hotels offer all-you-can-eat buffets, and these can be very tempting. It's so easy to really load up your plate, and then go back for more. As a rule of thumb, feel free to eat as many vegetables as you like (provided they are cooked without rich, fattening sauces). Salads are another great choice. Try to fill half of your plate with vegetables. (Extra credit for selecting vegetables of various colors!) And when it comes to protein and carbs, don't deny yourself, as these are important elements of any meal. Just be sure not to overdo it.
"It's all Greek to me."

If you're in a city where you don't speak the language, eating at a restaurant can present extra challenges. Many places have English menus, so it's worthwhile asking. But even if there isn't one, don't be shy: ask your server what's in the food, being careful to avoid heavy, fried, or sweet foods. If you're ordering a salad, it's a good idea to ask for the dressing on the side so that you can control how much you put on.
Snack Smart

As you already know, your Personal Menu Planner plans out three snacks every day so that you don't get hungry. Vacation is no exception! Even when you're on the go, be sure to pack some fruit, nuts, cut-up veggies or whole grain crackers to munch on.
Water, Water Everywhere…

…and more than a drop to drink! Be sure to pack a good water bottle and keep refilling it so that you never go thirsty on your travels. This is especially important in the summer when dehydration comes on quickly. And keep in mind that drinking cold water can boost your metabolism by about 25% — and the effect lasts approximately 40 minutes. So drink up! (And as always, avoid sugary soft drinks and diet drinks filled with artificial sweeteners that work against your body.)
Game Plan for the Open Bar

In many cases "all included" also refers to drinks – at least the cheap ones. And alcohol – especially cocktails – can be full of calories. And what's worse, because the body sees alcohol as poison, it prioritizes oxidizing the alcohol. So anything that you eat along with your drink is automatically directed to fat. Does that mean you can't enjoy alcohol at all? Of course it doesn't. You just need to choose your drinks wisely. One helpful tip is to keep it clean: if you're drinking spirits, cut them with ice, soda, tonic or water. Cut gin with lime juice and tonic water, or order a Bloody Mary which is a cocktail that has a lot of healthy ingredients like tomato juice, lemon juice and spicy seasonings, and is often garnished with celery or olives. And most importantly, keep your drinking to a minimum and really savor it. (You'll find more helpful tips for drinking responsibly here!)
Manage the Mini Bar

It doesn't matter where you stay: almost any hotel, resort or vacation apartment will have a mini bar or a fridge. Make sure to fill it up with water – flat or carbonated – so that you always have a cold drink ready when you need one. It's also a good idea to keep yogurts, cheese, fruit and vegetables in the fridge so that when you're packing up for the day's adventures, you can grab some healthy snacks to take with you. And if you never bring in unhealthy "junk food," it will never tempt you.
Some hotels offer an empty mini bar, but others will fill it with all kinds of snacks – and some may not be so good for your body, or your weight-loss goals. You can simply contact Guest Services and they will empty the mini bar so that you can use the space for your own food.
And most importantly, don't lose your head. You're on a vacation – it's time to let go and relax. Make sure you're having fun and not allowing yourself to get worried about food or your weight. In addition to all of these helpful tips, be aware that by simply feeling less stressed can allow your body to get out of fat-storing mode. So have a great vacation and make the most of it!