Water is essential to life, and drinking water keeps all the body's critical functions running. But what does it mean for weight loss?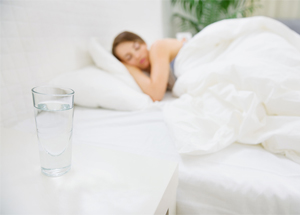 "Drink more water" has long been a standard recommendation for attaining and maintaining a healthy weight. Most people attribute this to the appetite lowering effect of filling your belly, to substituting water for sugar-laden beverages, to keeping you cool and functioning during workouts so you can keep going, and even to flushing out toxins that make your metabolism sluggish – and all of these are indeed very relevant. But clinical research has confirmed at least one additional mechanism, and suggested a possible second.
Back in 2003, a key study performed in Germany evaluated the effect of drinking plain water on the metabolic rate – the speed at which calories are "burned" to make energy1. The researchers found that drinking 2 glasses (totaling 17 fl oz or 500 ml) of "room temperature" (22°C) water per day increased the metabolic rate by 30% in men and women. The increase occurred within 10 minutes of drinking the water, and peaked after 30-40 minutes. Nearly half of the effect was attributed to the body's natural self-heating response to the cooling effect of the water, known as "thermogenesis". A gender difference was observed in the main fuel used for the thermogenesis – fats were used in men, compared to carbohydrates in women.
Later in 2007, the same research center performed a follow-up study, which confirmed the metabolism-enhancing effect of drinking plain water2.
A 2011 study conducted by an Israeli research group found a similar effect in overweight boys aged 8-11 years3. Here, an average 25% increase was observed in the metabolic rate within 24 minutes of drinking "cold" (4°C) water at amounts of 10 ml/kg, an effect that lasted for 40 minutes. It was suggested that in addition to the thermogenic effect, a possible explanation may have been the metabolic boost to the muscles due to hydration. In general, muscle tissue in overweight individuals tends to be less well hydrated, and so is less metabolically active – therefore, correction of this state may contribute to greater burning of energy.
Results from a Polish study in women, published in late 20124, not only confirmed the thermogenic effect of drinking water, but found that obese women had a greater response – a 20% increase in metabolic rate vs. 12% among normal weight subjects – possibly supporting the impact of muscle hydration on the effect.
What these studies also have in common is that the water was drunk on an empty stomach, and the metabolism-enhancing effect was transient, or short-lived, limited to between half an hour to an hour after the time of active drinking. It was suggested that multiple drinking sessions of a large amount of water, i.e. 500 ml four times per day for a total of 2 liters (about 8 glasses), could increase energy expenditure four-fold. It was not discussed what the impact would be of drinking smaller amounts more frequently, but this may be a reasonable method for people who find large amounts challenging and even discouraging. If muscle hydration does indeed play a role, adequate overall water intake could serve your metabolism well, regardless of how you get there. It should be noted, however, that drinking more water than your body needs can work against you, especially if you have certain heart or kidney conditions.
Though drinking water is no replacement for diet-and-exercise weight loss methods, the effect was considered significant enough to give an extra boost. This may provide a little more motivation to get in the generally recommended eight 8-oz/240-ml glasses each day, so you can benefit from all of the healthful properties water has to offer.
 ______________________________________________
References:
Boschmann M, Steiniger J, Hille U, Tank J, Adams F, Sharma AM, Klaus S, Luft FC, Jordan J. Water-induced thermogenesis. J Clin Endocrinol Metab. 2003 Dec;88(12):6015-9.
Boschmann M, Steiniger J, Franke G, Birkenfeld AL, Luft FC, Jordan J. Water drinking induces thermogenesis through osmosensitive mechanisms. J Clin Endocrinol Metab. 2007;92 (8): 3334
Dubnov-Raz G, Constantini NW, Yariv H, Nice S, Shapira N. Influence of water drinking on resting energy expenditure in overweight children. Int J Obes (Lond). 2011 Oct;35(10):1295-300.
Kocełak P, Zak-Gołąb A, Rzemieniuk A, Smętek J, Sordyl R, Tyrka A, Sosnowski M, Zahorska-Markiewicz B, Chudek J, Olszanecka-Glinianowicz M. The influence of oral water load on energy expenditure and sympatho-vagal balance in obese and normal weight women. Arch Med Sci. 2012 Dec 20;8(6):1003-8.