High-calorie food often represents warm, loving, comforting memories. Hunger is a deep, ancient reflex and powerful fear because it was such a norm in human history. Emotional eating—which most of us do from time to time—combines all these things.
What is Emotional Eating?
Emotional eating is eating to deal with emotions, especially difficult ones, such as disappointment, boredom, loneliness, sorrow and grief. Sometimes we eat to deal with positive emotions, such as happiness, pleasure, and joy. Most of us are unhappy about what emotional eating does to our bodies and our self-esteem.

(Emotional eating is not mindless eating. Mindless eating is unemotional overeating. When we eat mindlessly, we will usually eat whatever is there, just because it's there. The carrot sticks on your desk will often do just as well as the cookies in the coffee area. To learn more about mindful eating, click here.)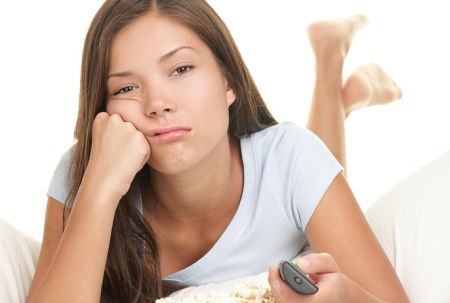 Why Do We Eat Emotionally?
There are four major causes of emotional eating.
Evolution. When we eat emotionally, we almost always eat foods high in refined carbs, sugars and fats. These energy-dense foods have traditionally been rare in the human diet, and we crave them because they are energy our body can either use or store.
Neurobiology. The brain uses carbohydrates (including sugars) and fats to make endorphins and serotonin. These neurotransmitters make us feel calm, contented, and happy. We often eat emotionally to make ourselves feel good.
Habituation. All sugars, from agave nectar to high fructose corn syrup, bind to the dopamine and opioid receptors in our brains. The more we eat, the more it takes to satisfy us.
Socialization. From childhood, food is a comfort and reward. Even more than boys, girls are encouraged to eat rather than express emotions, especially "unfeminine" emotions. Often, these emotions are completely appropriate to the situation—but expressing them can be risky, even dangerous.
Finally, there is the modern diet. Most processed food is carefully optimized with salt, sugar and fat so you can't help but eat all of it, no matter what you actually enjoy and want. Food marketing is designed to convince you to eat a lot, all the time. Combine those powerful causes of emotional eating with the modern diet and food marketing and…
Emotional Eating Makes You Normal!
If you're struggling with emotional eating, you're normal—even though it is harmful. Virtually everyone eats emotionally from time to time, and 69% of Americans 20 years or older are overweight or obese. These numbers cannot possibly be the failure of our individual will or self-respect or self-control.
Many of us eat to cope with workplace stress. For the past several decades, salaries and benefits have not kept pace with the cost of living, while the social safety net was shredded. That stress causes cortisol production, which increases our desire for sweet and fatty foods. Emotional eating is a way to cope with workplace pressures and the fear of being unable to provide for our families and ourselves. (Yes, this is irrational. Most of us are irrational when we are in pain or afraid!)
That bowl of ice cream, bag of cookies, or bottle of wine, that slab of pizza can seem best thing we come home to.
Current relationship issues and past trauma are known to correlate with eating disorders, including binge eating disorder.
What are You Really Hungry For?
Emotional eating is the reason so many sensible attempts at reasonable weight loss fail. Unless you understand why you're eating, changing your eating habits to eat only for pleasurable and companionable nutrition can be hard. The first step in controlling your emotional eating is to ask: What am I really hungry for? What emotions am I trying to eat? And why am I trying to eat them? Asking these questions and answering them honestly can be a long process that is sometimes painful. It can also be very freeing, even enriching.
Practical Steps
Here are some ways to gain control over your emotional eating.
Keep a journal to help you understand why you're eating.
Remove trigger foods from the house and replace them with nourishing foods you enjoy. Alternatively, keep small, reasonable amounts of your trigger foods in the house. (Different approaches work for different people.)
Replace eating with something else you enjoy a lot: reading, knitting, sex, yakking with friends, gardening, walking.
Take practical steps to get what you're really hungry for.
Do one of the following things to quickly reduce cortisol, your stress hormone:

Drink a cup of black tea.
Massage your feet: take off your shoes and roll your feet over tennis balls.
Close your eyes and, staring at the blackness, inhale and exhale slowly 10 times.

Exercise to burn off the cortisol produced by stress. Find a way you enjoy moving, and then move in that way until you are quite blissfully tired.
Allow yourself to feel even difficult emotions: yoga and meditation are excellent for this.
If you are dealing with a very painful or complicated situation or set of emotions, you may need to seek professional help.
The most important thing? If you find yourself giving into the emotional need to eat, take just a few seconds to calm yourself, perhaps with the breathing exercise mentioned above, perhaps with a cup of tea. Then eat, taking time to enjoy every bite. When you stop enjoying, try to stop eating. If you can't, it's OK. You didn't develop this habit overnight and you won't break it overnight. Tomorrow is a fresh start.
One of the best things you can do for yourself is to get support from—and give it to—other people dealing with the same issue. The Trim Down Club provides a very safe, supportive environment for people to deal with emotional eating.