Raw dairy products are made from milk that has not been heat-pasteurized or homogenized.
Proponents claim that this better preserves the nutritional value and health-protective properties of milk, which are diminished by processing.
On the other hand, the United States Food and Drug Administration (FDA) and Centers for Disease Control (CDC) and comparable regulatory agencies around the world warn of the risks of consuming dairy that has not undergone pasteurization, citing more frequent cases of food poisoning. Groups monitoring both sides of the debate note that pasteurization is also not a 100% guarantee against food poisoning.
So what's a health-conscious consumer to do?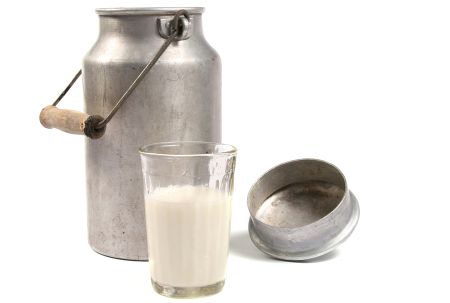 Behind the dairy debate
Raw milk is what was consumed before the invention of pasteurization in 1864. Pasteurization, or heating at temperatures of 145-238°F or more for 2-30 seconds, stemmed from efforts to control bacterial diseases from raw milk, to make milk safer to consume. It originated during a time when farm conditions were largely unsanitary even in westernized countries. Unlike sterilization, pasteurization is not intended to kill all micro-organisms in the food, but instead aims to reduce the number of pathogens and thus the risk of disease (commercial food sterilization adversely affects taste and quality, and so is uncommon). Today, pasteurization is believed to have greatly prevented dairy-related food-poisoning, though some cases still slip through when processing standards are not met, or products are consumed past their expiration date.
Homogenization is mechanical power-blending of raw or pasteurized milk to make it more convenient to process, store, and consume. It combines the "cream" portion of milk with the watery nutrient-rich base, which are separate in unprocessed, unshaken milk.
In the 1930s, some members of the scientific community began writing about the losses of enzymes, nutrients, and "good" bacteria (also known as probiotics) from milk as a result of the intense heating involved in pasteurization. Those opposed to homogenization argue that the method of decreasing the size of the cream fat globules may have unhealthy effects, including allowing steroid and protein hormones to bypass normal digestion and increase their levels in the body. Scientific research has as yet not definitively linked these methods to health issues, though some evidence has been suggestive.
These concerns have increased with the frequency of food processing in general, and interest in raw foods has risen in parallel.
More recently, greatly improved dairy farm conditions, including stainless steel milk tanks and milking machines, as well as refrigerated dairy delivery vehicles and diligent inspection methods, have decreased the some of the concern regarding raw milk.
Additionally, advances in the analysis of milk-borne diseases have enabled scientists to track the cows that supply problematic milk, and facilitated control of distribution.
In rural areas, milk is typically obtained unpasteurized. On farms, it has been observed that the lifestyle may have a somewhat protective effect on the immune system, and raw milk has been linked to health benefits with lower risk. In some rural parts of Asia, raw milk is boiled before consumption. In most industrialized areas of western countries, however, pasteurization remains the most common safety measure of choice.
Raw milk ring-side
Proponents of raw milk claim that pasteurization destroys or damages some of the milk's nutrients and important pro-immunity compounds, and that while pasteurization may kill dangerous bacteria, it also kills off good bacteria associated with health benefits.
Some clinicians, even those formerly trained in conventional medicine (such as the widely-followed alternative medicine guru Dr. Joseph Mercola), believe that dairy allergy and chronic disease problems associated with dairy stem from pasteurization. Dr. Mercola notes that this process destroys natural enzymes, kills beneficial bacteria that fight pathogenic bacteria and produce "conditionally essential" vitamins, reduces vitamin content (destroys vitamins B6, B12, and C), alters the molecular structure of the protein molecules (possibly causing casein intolerance), and contributes to increases in tooth decay, colic in infants, growth problems in children, osteoporosis, arthritis, heart disease, and cancer.
The natural enzymes, probiotics, and proteins make raw milk and cheese much easier to digest and assimilate than processed milk products.  Fermentation, as in cheese, partially predigests the milk protein, making it even easier to digest. Heating the milk during pasteurization alters the protein, suggested to be a major contributor to milk allergy.
While some populations have high percentages of individuals who do not produce lactase, the enzyme that breaks down lactose in the body, additional decline in lactase in adults has been suggested to be due to insufficient good bacteria, blamed in great part on the overuse of antibiotics, including those obtained through conventional dairy products.  Raw milk and Lactobacillus in fermented milk have adequate amounts of enzymes present to break down the milk for easy digestion, while pasteurization destroys these enzymes and probiotics.
It has been noted that calves fed pasteurized milk don't thrive and often die before adulthood. Similar observations have been made in humans, where infants fed products based on pasteurized milk generally have poorer health than those receiving maternal milk from well-nourished mothers.
Another advantage attributed to raw milk is the whole fat feature, which proponents note offers essential milk fatty acids that support the digestive and immune systems, as well as fat-soluble vitamins. Of note, two important fat-soluble vitamins, A and D, are added back to milk from which the fat content has been reduced (reduced-fat or low-fat milk) or removed (skim milk).  These are needed for proper assimilation of calcium and protein, two major reasons many people drink milk. There are also concerns that the process of making skim milk presents the risk of oxidizing cholesterol, which is more damaging to blood vessels than too much cholesterol, as well as compounds believed to be carcinogenic and toxic to the nervous system.
Cows raised for raw milk production tend to graze on pesticide-free green grass, which generally provides superior nutrient content – including omega-3 fatty acids – and they get adequate sunlight, ensuring abundant vitamins A and D.
Apart from the suggested health benefits, raw milk proponents note that fresh, raw dairy yields a creamy, full-bodied flavor and mouthfeel that is lost during industrialized processing.
The safety side
Government agencies note that unpasteurized dairy has been linked to outbreaks of potentially deadly campylobacteriosis and tuberculosis, as well as infection with Listeria monocytogenes, Escherichia coli, and Salmonella species. Though such infections are also observed with pasteurized dairy and in non-dairy foods that are not properly handled, higher percentages of raw cases relative to frequency of use have been cited.
Many raw dairy farmers also avoid preventive use of antibiotics, which has led to the concern that some raw milk may already be contaminated in the cow itself. Systematic antibiotic use in livestock remains controversial among health advocates.
Pasteurization proponents claim that the heat-related destruction of nutritional value is not a given, noting required post-processing fortification of milk products with vitamins at higher levels than are found naturally in raw milk.
People particularly susceptible to milk-related infections – such as young children, pregnant women, the elderly, and those with weakened immune systems – are particularly discouraged from drinking raw milk.
Raw milk regulation
Regulation of raw milk sales varies around the world. Some countries, such as Scotland, have complete bans, but many have partial bans that do not restrict the purchase of raw milk bought directly from the farmer, or products purchased from farms that abide by strict regulations. While it is legal in England, Wales, and Northern Ireland – though not through regular shops and supermarkets – the only registered producers are in England, who sell raw, or "green top" milk direct to consumers, either through a farm or farmer's market, or through a delivery service; bottles must display a warning regarding the lack of heat treatment, and the dairy must conform to higher hygiene standards than for pasteurized products. In the European Union, all raw milk products are legal and considered "safe for human consumption"; however, individual countries are free to add certain requirements, usually special sanitary regulations and frequent quality tests (at least once per month) are mandatory. Germany is known to have the strictest of these, and raw dairy is widely, legally, and safely sold. The French have a long tradition of raw cheese production, claiming that pasteurization destroys the classic cheese taste, and have resisted it. Other non-European westernized countries, such as New Zealand, allow raw dairy products to be sold as long as the source meets regulations, whereas Australia prohibits raw dairy, though some controversy exists regarding raw cheese. The sale of raw milk directly to consumers is prohibited in Canada under the Food and Drug Regulations since 1991, though some provincial laws (i.e., Ontario) also forbid the sale and distribution of raw milk that has not met strict standards for plants licensed under the "Milk Act". The sale of raw milk cheeses aged over 60 days are allowed in Canada, and since 2009, the province of Quebec has allowed raw milk cheeses aged less than 60 days provided stringent safeguards are met. In the United States, raw milk sales are allowed in most states, some with specific regulations and even state-approved sources, though in other states, provisions do exist for private purchase. However, concerns about safety have increased rather than decreased, and sales are increasingly restricted. As a result, some small dairies are now beginning to adopt low-temperature vat pasteurization, noting that it produces a product similar to raw milk in composition and is not homogenized; this is often duplicated in private homes, where slow but thorough boiling (at temperatures below 115°C, for 15 minutes) is considered to be an alternative. The newest industrial technology, sonification, uses sound waves instead of heat to kill undesirable bacteria, and is believed to best preserve the taste and health benefits of raw milk.
The organic option
Though generally pasteurized and homogenized, organic milk and dairy products are favorable second choices behind raw dairy. The lack of antibiotics and hormones in the cow feed not only presents an inherent benefit to the consumer, but the cows are much better taken care of than commercial cows, out of necessity to preserve their health and well-being without chemical back-up.
Organic milk has also been found to be significantly lower in saturated fat than raw milk. When compounded with omega-3 fatty acids and antioxidants from grass and red/white clovers in grass-fed cows, the fat and nutrient composition can be naturally superior to most milks.
However, while cows raised for raw milk production nearly always graze on pesticide-free green grass, those raised for organic pasteurized milk may not be. Therefore, it is recommended to seek an organic milk from a company that specifies "grass-fed" and/or "free-range".
The bottom line
Raw dairy is increasing in popularity, along with raw food in general. As a result of the milk safety controversy, dairy farm conditions and practices are being "cleaned up," and alternatives to pasteurization are increasingly being developed and used.
For raw dairy availability in your area, see the following electronic address: http://www.realmilk.com/real-milk-finder/.  Be sure to check on the legality of sales before ordering. In addition to international and US national shopping links, the site offers the following general advice for raw dairy use:
"As this is such an important decision, especially for children and the immune compromised, it is essential for you to do your own research to feel personally comfortable before proceeding."
For everyone else, the raw vs. pasteurized question remains, pitting the health and taste benefits against concerns similar to those associated with raw fish (as in sushi) and beef (as in steak tartare and carpaccio). Some people deal with the risk by cooking the milk and dairy themselves at home, which may result in greater preservation of some of the natural benefits, while ensuring safety.
When in doubt, organic dairy is a good second choice, especially if the cows are pastured.
The Trim Down Club believes that in order to lose weight, you have to eat real food–not starve yourself! Our Menu Planner makes this easy to do. Click here to learn more.