Rice paper wraps, or rolls, are a fun vehicle for raw food because they let the eater see inside the bundle – and they are low-fat and satisfying, too. This recipe borrows flavors from classic Chinese and Japanese cuisine.
Click to get more Easy, Healthy Recipes
Preparation Time

15 minutes + 30 minutes

Difficulty Rating

1

Health Level

5

Serves

4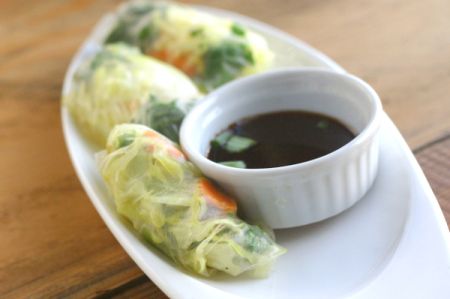 Ingredients
½ cup / 40 g green/white cabbage, shredded
1 medium carrot, shredded
1 medium cucumber, seeded and diced into ¼-inch pieces
2 scallions / spring green onions (white and green parts), finely diced
2 Tbsp / 7½ g flat-leaf parsley, coarsely chopped
1 tsp / 5 ml sesame oil
½ tsp /2½ ml chili oil
12 small rice paper rounds (6½-inch / 16 cm)
1 Tbsp / 15 ml low-sodium tamari sauce
2 tsp / 10 ml warm low-sodium vegetable broth/stock
½ tsp / 5 ml rice wine
---
Directions
In a medium bowl combine the cabbage, carrot, cucumber, and parsley together along with the scallions, minus 1 tablespoon / 15 g of the scallions, reserved for dipping sauce.
Add the sesame oil and chili oil, and stir well to combine. Let the mixture marinate for 30 minutes at room temperature.
Fill a medium bowl with warm water and gently submerge a rice wrapper until softened.
Lay the wrapper on a flat workspace and place 1½ tablespoons / 23 g of filling across the wrapper.
Pull the bottom of the wrapper over the filling, pull the sides in, and roll up.
Repeat with the rest of the wrappers and filling. Top with reserved scallion/spring green onions.
In a small bowl, combine the tamari, broth, and rice wine to serve alongside the wraps.
Serve immediately.
Serving size: 3 wraps
Exchanges per Serving: 1 Carb, 0 Protein, ½ Fat
---