An easy low-carb, gluten-free, high-antioxidant option for a delicious pizza meal. Gluten-free, low-carb, Paleo, and keto-friendly.
Click to get more Easy, Healthy Recipes
Preparation Time

10 minutes

Baking Time

20 minutes

Difficulty Rating

1

Health Level

4

Serves

4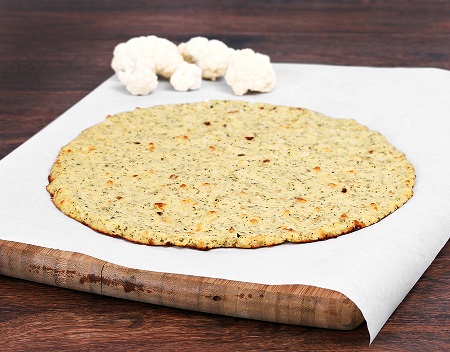 Ingredients
2 cups / 200 g cauliflower, grated
1 cup / 96 g mozzarella cheese*, grated
3 cloves fresh garlic or:

1 tsp. / 3 g garlic powder

2 Tbsp. / 4½ g fresh Italian herbs (basil, oregano, marjoram, rosemary, thyme) or:

1 Tbsp. / 4½ g Italian seasoning

1 large egg**
Salt or substitute to taste
2 tsp. / 10 ml olive oil
For maximum health value, consider the following ingredient upgrades:
* Organic pastured cheese ** Organic omega-3 or pastured egg
---
Directions
Preheat oven to 375°F/180°C. Spray pizza pan with olive oil.
Mix all ingredients together in a bowl.
Pour mixture onto pizza pan sprayed with olive oil.
Form into a circle, lightly spray top of crust with cooking spray
Bake for 15-20 minutes at 375°F/180°C.
Remove crust from oven, add toppings and broil for about 5 minutes, or until any added cheese is melted.
Suggested toppings:
All natural tomato sauce; mix with tomato paste for thicker sauce (½ cup = 1 vegetable exchange)
Low moisture mozzarella or Parmesan cheese (1 oz / 30 g = 1 protein exchange)
Olives (5 =-10 1 fat exchange), spinach (free)
Serving Size:
¼ recipe
Exchanges per Serving:
1 Protein, 1 Fat
---