Easy-to-make and always-enjoyed meal-in-one. Gluten-free. Freezes well.
Click to get more Easy, Healthy Recipes
Preparation Time

10 minutes

Cooking Time

60 minutes

Difficulty Rating

1

Health Level

4

Serves

12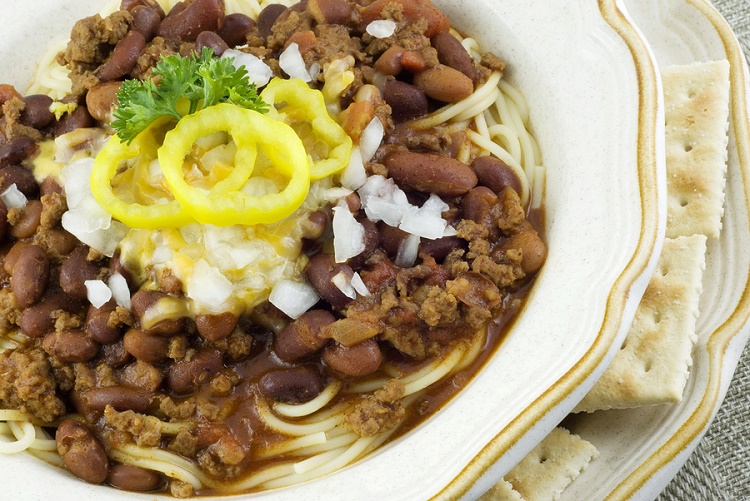 Ingredients
1 Tbsp / 15 ml olive oil
½ cup / 120 ml onion chopped
l lb. / 454 g ground hamburger or turkey, preferably lean organic pastured
½ cup / 120 ml sweet bell pepper, chopped
2½ cups / 600 ml stewed tomatoes
1 tsp / 5 ml ground black pepper
1 Tbsp / 15 ml chili powder
1 clove garlic,  minced (optional)
2 tsp. / 10 ml blackstrap molasses or raw sugar
1 lb / 454 g gluten-free whole grain spaghetti or other noodles, uncooked
3 qt/L water
2 cups / 480 ml pinto or similar beans, cooked/canned
---
Directions
Warm oil in large lidded skillet over medium-high heat.
Add onions, and saute until translucent, about 5 minutes.
Add ground beef or turkey and bell pepper, and saute until browned.
Drain excess fat, and add tomatoes and cooked beans.
Add seasonings and sweetener to the meat mixture, and stir well.
Reduce heat to low, cover skillet, and simmer for about 30 minutes.
Meanwhile, bring water to boil in a 4-qt/L pot and add pasta.
When pasta is tender to taste, drain and add to meat mixture.
Cover and cook for an additional 20 minutes.
Serving size: 1 cup / 240 ml
Exchanges per Serving: 2 Carb, 1 Protein, 1 Fat, 1 Veg
---