Cranberries are a Native American superfood that was introduced to European colonists, who used them to create the jam-like poultry sauce that became a holiday classic. Because of the sourness of the cranberry, high amounts of sugar are often added in cooking—diminishing the health value. This recipe is a low-carb hack of a traditional Native American upgrade.
Click to get more Easy, Healthy Recipes
Preparation Time

5 minutes

Cooking Time

20 minutes

Difficulty Rating

1

Health Level

4

Serves

16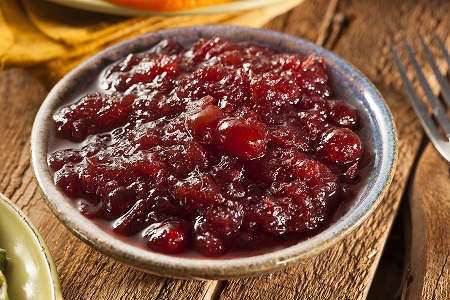 Ingredients
2 cups / 480 g inulin or xylitol sweetener + 1 tsp. pure maple extract or:

½ cup / 120 ml real maple syrup + 3 Tbsp. / 18 g whole Stevia
monk fruit powder (or 1 tsp. / 4 g extract)

1+ cups / 240+ ml water
1 Tbsp. / 6 g fresh ginger root, minced or finely grated (from 3 1-inch / 2½-cm pieces) or:

1 tsp. / 2 g ground ginger

4 cups / 400 g fresh whole cranberries, well-rinsed
---
Directions
Combine all ingredients but the cranberries in a 2-quart saucepan over medium-high heat.
Bring to a boil and then reduce the heat to medium-low, and cook for 5 more minutes.
Add the cranberries and cook for 10 minutes, stirring occasionally, until the cranberries begin to pop. Mash lightly, and continue cooking for 5 more minutes until and the mixture thickens to desired texture, adding water as needed.
Allow to cool before serving.
Serving size:¼ cup / 60 g
Exchanges per Serving: ½ Carb, 0 Protein, 0 Fat
---