This zesty, creamy "hummus"-type spread will brighten up any meal or snack!
Click to get more Easy, Healthy Recipes
Preparation Time

12 hours

Cooking Time

60 minutes

Difficulty Rating

1

Health Level

5

Serves

6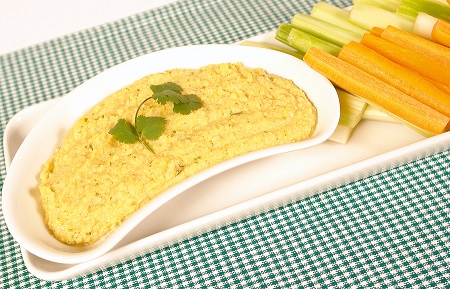 Ingredients
1 19-oz/540-g can or 2 cups / 410 g cooked* chickpeas (garbanzo beans), drained and well-mashed
2 Tbsp. / 30 g organic omega-3, olive oil or flaxseed mayonnaise or "vegan-naise" or:
2 tsp. / 10 g spicy brown or Dijon mustard
1 Tbsp. / 15 g sweet or dill pickle relish
2 spring green onions (scallions), finely chopped
1 Tbsp. / 10 g yellow onion, finely minced (optional)
Salt or substitute to taste
Ground black pepper to taste



*Rinse and soak dried chickpeas for 12 hours, cook for 1 hour, chill for 15 minutes before incorporating into recipe.
---
Directions
In a medium bowl, combine mashed chickpeas, 'aise, mustard, relish, chopped green onions, salt, pepper, and yellow onion (if desired).
Blend well by hand or in a food processor.
Serve with cut raw vegetables or 100% whole grain bread, pita bread, tortillas/wraps, or crackers (1 oz = 1 carb exchange).
Serving size:⅓ cup / 90 g
Exchanges per Serving: 1 Carb, ½ Protein, 0 Fat
---