This plant-based twist on a classic French recipe makes a chic main course, and is quick, simple, and vegan to boot!
Click to get more Easy, Healthy Recipes
Preparation Time

15 minutes

Cooking Time

15 minutes

Difficulty Rating

2

Serves

4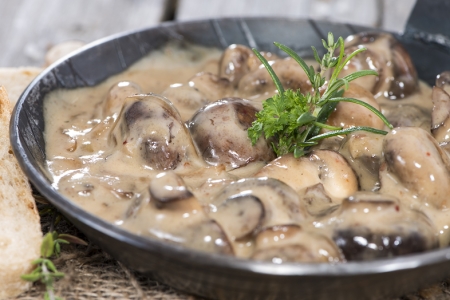 Ingredients
1 cup / 120 g wheat gluten powder
1 Tbsp. / 30 g all-natural bouillon powder
1 Tbsp. / 7 g organic or non-GMO cornstarch
1½ cups / 360 ml vegan broth/stock
2 Tbsp. / 28 ml olive oil + additional as needed
3 Tbsp. / 30 g shallot or onions, finely chopped
½ lb / 270 g fresh champignon mushrooms, sliced
½ cup / 120 ml dry white wine or vermouth
1 cup / 240 ml unflavored vegan milk, e.g. organic soy or other
1 Tbsp. / 7 g whole rice or arrowroot flour
1 Tbsp. / 5 g fresh chopped or ½ tsp. dried ground thyme, rosemary, and/or parsley
⅛ tsp. / ¼ g ground black pepper
Salt or substitute to taste
---
Directions
Combine the gluten and bouillon powders with the cornstarch. Add in the broth/stock, and blend well to get a glutinous mass of seitan.
Coat hands lightly with oil, take 1 heaping tablespoon of seitan, and form into medallion approximately to ⅛-¼ inch/¼-½ cm thick. Repeat with remaining seitan.
Heat one teaspoon of oil in a medium non-stick skillet over medium heat. Add the shallots or onions, and cook until translucent and gently browned, stirring occasionally to prevent burning.
Add two teaspoons of oil and the mushroom slices. Stir to coat mushrooms evenly with oil, then cover to allow to soften. Remove onions and mushrooms from the pan, and set aside.
In the same pan, heat 1 tablespoon of oil over medium heat. Place medallions into heated pan, and brown evenly on both sides.
Return onions and mushrooms to pan, and add in milk. When milk is warm, sprinkle in rice flour and blend well. Add wine/vermouth and seasonings. Cover and allow sauce to thicken, stirring occasionally, until it develops a sheen.
Serve hot over whole brown or wild rice (each ⅓ cup or 60 g = 1 carbohydrate exchange) or alongside sliced herbed potatoes (½ cup = 1 carbohydrate exchange).
Serving Size: 4 medallions with sauce
Exchanges per Serving: 1 Carb, 3 Protein, 1 Fat
---