A simple, healthy all vegetable meal. Paleo-friendly, vegan, gluten-free.
Click to get more Easy, Healthy Recipes
Preparation Time

10 minutes

Cooking Time

10 minutes

Difficulty Rating

1

Health Level

4-5*

Serves

2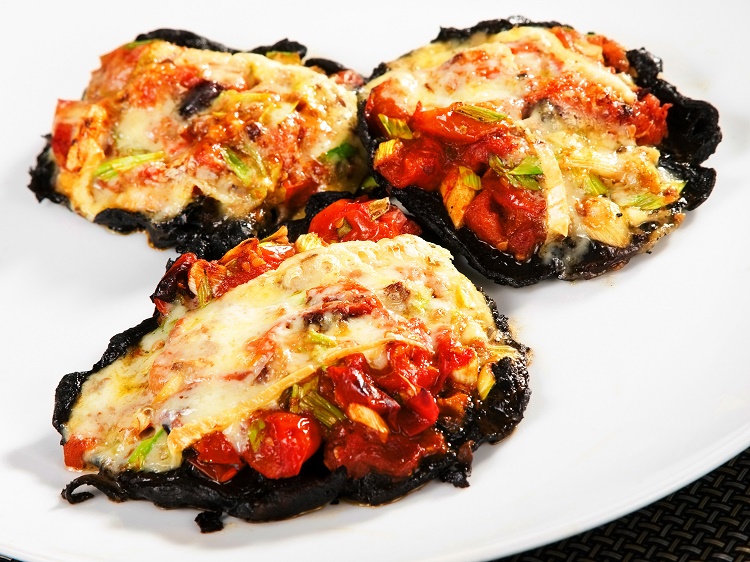 Ingredients
2 jumbo mushroom caps (e.g., portobello)
¼ cup tomato sauce
⅓ red sweet bell pepper
⅓ yellow onion
1 roma tomato
1 oz / 30 g (¼ cup) mozzarella-style vegan shreds or Easy Vegan Cheese*
1 Tbsp / 4 g fresh chopped herbs (e.g., basil, oregano)
½ tsp / 2½ ml olive oil
---
Directions
Preheat oven to 400°F / 200°C. Brush or mist baking dish with oil.
Remove the stems from the mushrooms, and use a spoon to remove the gills.
Pour the tomato sauce on both mushrooms.
Dice the vegetables and sprinkle on top of the sauced mushrooms.
Sprinkle the cheese and herbs (if desired) on top.
Bake until hot and bubbly, about 10 minutes.
Serving size:
1 mini-pizza
Exchanges per Serving:
½ Carb, ⅓ Protein, 1 Fat, 1 Veg
---