Turkey is a traditional feast bird for many Native Americans. If you can find one raised on its own native diet—also known as "pastured"—the health benefits are multiplied. Seasoning with Native American herbs and spices and grilling instead of frying make this holiday favorite a true superfood.
Click to get more Easy, Healthy Recipes
Preparation Time

15 without stuffing, 30 minutes with stuffing

Cooking Time

2 hours unstuffed to 4 hours stuffed

Difficulty Rating

1

Health Level

5

Serves

32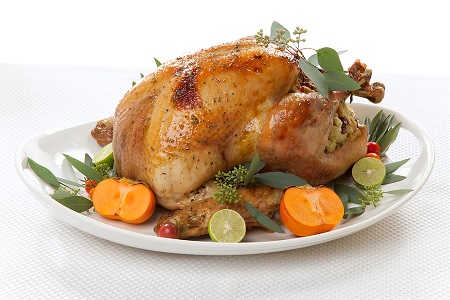 Ingredients
1-10 lb / 4½ kg turkey, preferably organic pastured, fresh or thawed
1 cup lime juice
3 cloves fresh garlic, minced
3 Tbsp. / 10 g fresh mint leaves, chopped
1 Tbsp. / 8 g chili powder
2 tsp. / 7 g ground black pepper
1 Tbsp. / 2 g dried sage
Salt or substitute to taste, preferably native pan salt
---
Directions
Preheat oven to 375°F / 190°C.
Empty turkey of offal (gizzards, heart, neck, and liver) and set aside. Fill turkey loosely with stuffing if desired (see recipe here)
Pour lime juice evenly over turkey.
Mix 6 seasonings and rub onto turkey skin and meat under the skin.
Place on grill rack in Dutch oven, and place in preheated oven. Roast at 350°F for 25 minutes per pound, basting with drippings every 10 minutes.
After the appropriate time, check for doneness by piercing skin—the juices released should be clear. Insert meat thermometer—the temperature inside the turkey should reach 165°F / 75°C.
After removing turkey from the oven, pour off drippings into narrow, clear heat-proof glass, and wait for separation of fat component from the rest. Using a turkey baster, move the fat layer to a separate container for later use. Pour drippings into saute pan, and set aside for gravy (see recipe here).
Decorate with whole herb sprigs, and/or sliced autumn fruits or vegetables.
Serving size: 2 oz / 57g turkey meat
Exchanges per Serving: 0 Carb, 2 Protein, 0 Fat
---