Bread stuffing is associated with the winter holidays. This healthy twist, with fast-and-simple preparation, means it can be enjoyed year-round.
Click to get more Easy, Healthy Recipes
Preparation Time

10 minutes

Cooking Time

30 minutes

Difficulty Rating

2

Health Level

5

Serves

12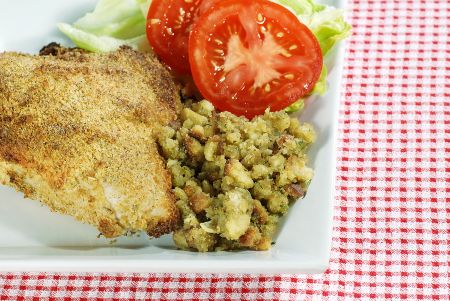 Ingredients
6 cups bread, cubed (sprouted/100% whole grain regular or gluten-free)
¼ cup / 60 ml olive oil
½ cup / 80 gm chopped onion
½ cup / 50 gm chopped celery
½ cup / 35 gm chopped mushrooms
1 tsp. / 3 gm ground black pepper
1 tsp. / 0.7 gm ground sage or thyme
1 Tbsp. / 4 gm chopped fresh parsley or 1 tsp. dried leaves
1 cup / 240 ml low-sodium vegetable or chicken broth
---
Directions
Preheat oven to 350F / 175C. Spray a 2-quart / 2 litter baking dish with non-cook spray.
In a large skillet over medium heat, heat the oil, then add and sauté the onion, celery, and mushrooms, stirring occasionally, until the onion and celery pieces are soft, about 10 minutes.
Stir in the pepper and sage, and cook for an additional 3 minutes.
Place the bread cubes into a large bowl. Gradually pour the rest of the ingredients over the cubes and toss well, until all of the bread is coated.
Gradually add the broth and mix lightly with fork to moisten the bread mixture.
Pour in prepared baking dish, cover lightly with foil, and bake for 15 minutes.
Serving Size: ֲ½ cup
Exchanges per Serving: 1 Carb, 0 Protein, 0 Fat
---