The essential stuffed pepper recipe for meat-lovers.
Click to get more Easy, Healthy Recipes
Preparation Time

10 minutes

Cooking Time

1 hour

Difficulty Rating

2

Health Level

2

Serves

4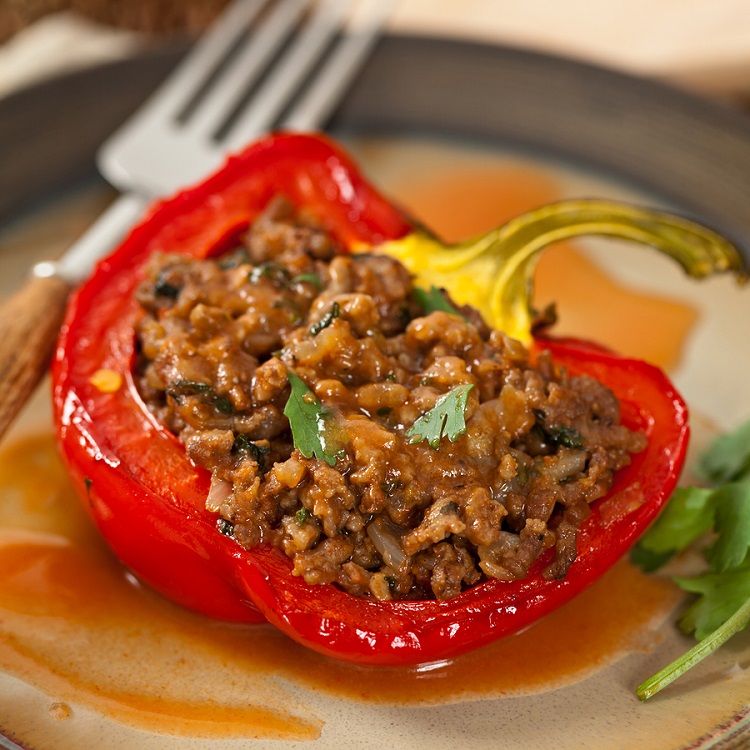 Ingredients
2 medium sweet red bell peppers
4 oz / 120 g ground beef (mince)*, preferably organic pastured (80% for keto version)
¼ cup / 30 g brown or wild rice, uncooked (leave out for keto version)
1 cup / 240 ml water or vegetable broth/stock, preferably low-sodium (water for keto version)
1 egg, preferably organic omega-3 or pastured
8-16 oz / 230-460 ml tomato sauce (minimum amount for keto)
1 tsp.-Tbsp / 5-14 ml olive oil (maximum amount for keto)
¼ tsp. / ½ g ground black pepper (or to taste)
1 Tbsp. / 3 g Italian seasoning blend, preferably salt-free
1 Tbsp. / 4 g fresh parsley, chopped (optional)
* or other ground/mince meat, game, or poultry
---
Directions
Cook rice in water or broth/stock until just tender, about 20 minutes.
Preheat oven to 350°F / 180°C. Brush or mist 8x8-inch / 20x20-cm baking dish with olive oil.
While rice is cooking, warm a non-stick skillet over medium heat, add beef, and lightly brown for about 1-2 minutes.
Remove beef from heat, and set aside.
Cut peppers in half and clean out ribs and seeds.
In a medium-sized bowl, combine egg, rice, black pepper, Italian seasonings, and browned beef; blend together well.
Add ¼ of meat mixture to each bell pepper half.
Place in baking dish and cover with tomato sauce. Bake for 40 minutes, or until peppers are tender and sauce is bubbling.
Garnish with chopped fresh parsley, if desired.
Serving size:
 1 stuffed pepper half
Exchanges per Serving:
 ⅓ Carb, 1 Protein, 1 Veg
---